Evictions have become a common occurrence in the past 10 years. In this post, Stephanie Medley-Rath discusses Matthew Desmond's book about evictions and her own experience with informal eviction.
I have never been evicted. Scratch that. I have never been
formally
evicted. I have been
informally
evicted. In 2005, I lived in an apartment building one block from Piedmont Park in Atlanta. The building was old. There was a one-inch gap between the top and bottom windowpane in the bathroom-which I discovered during the winter. The ventilation was terrible-which I discovered when I found mold growing in my bedroom closet (and had to throw out a lot of clothing and shoes-some which were too far gone to clean). But it was near the park and all the park had to offer, so there were trade-offs to living here. I lived there for only a few months before our building was sold. The new landlords wanted to convert the building into condos. They needed the current tenants out so that they could do this. They paid me $1,000 to move (enough to cover my moving expenses). I did not consider this an eviction until I read
Evicted: Poverty and Profit in The American City
, by sociologist and wunderkind, Matthew Desmond (MacArthur Fellow, Pulitzer Prize, New York Times 10 Best Books of 2016). I also did not consider my next move an eviction when my rent was raised by $50 a month. Two forced moves in a row. My family and I decided it was time to buy a home. Unfortunately, we bought during the housing crash-prices were still declining, but we had no idea how much more they would decline when we needed to move again (our choice). We sold for less than we paid for the house.
We rented for awhile.
Then we bought again. Then we moved again (read more about that
here
and
here
). Again we sold for less than we paid for our house. In both cases, we were just grateful for an offer…any offer.
The Extent of Evictions
In Evicted, Desmond reports the findings from the Milwaukee Area Renters Study (MARS) that he conducted. He found that:
In Milwaukee, one in eight renters were either formally or informally evicted within the previous two years (p. 330). These evictions were categorized as (p. 330-1):

Informal evictions: 48%
Formal evictions: 24%
Landlord foreclosures: 23%
Building condemnation: 5%
…
Read More
---
In this piece, guest author Albert Fu discusses recent controversies over the casting of actors for super hero movies.
I am a huge fan of Marvel's movies, television characters, and comic books. However, I am keenly aware that superheroes – like all cultural icons – are produced by a society in which not all racial/ethnic groups are equally represented. You may have heard of some of the different controversies regarding race and casting decisions for Marvel's movies and television programs. Before Finn Jones was cast as Iron Fist, there was an online campaign to cast an Asian-American actor to portray the character. Last year, controversy erupted upon the release of a Doctor Strange trailer that featured Tilda Swinton, a white English woman, depicting the Ancient One, a character born in a fictional village in the Himalayas. To many Swinton was playing a traditionally Asian character in yellow face. Once the movie came out, an online exchange between comedian Margaret Cho and Tilda Swinton regarding the casting was made public. There was also a negative reaction to Zendaya Coleman's rumored casting as Mary Jane Watson in the upcoming Spider-Man film. It was argued by some that Mary Jane could only be played by a white woman. I could go on here, because there have been many other similar controversies about the race of actors hired to play Marvel characters, but I think you get the gist.
Race, Representation & Social Structure
Why is there controversy? Part of the controversy stems from the fact that Hollywood has a long history of avoiding stories focused on people of color, excluding characters of color from their scripts, and casting white actors to play the few characters of color that have made it into their films. For some fans, they saw the re-interpretation of beloved characters as an opportunity for Marvel to deal with the racist and Orientalist origins of many characters in their comic book universe. Yet, for other fans, the mere suggestion of "racebending" beloved characters was an attack on their subculture and beloved Marvel characters. …
Read More
---
In this essay, Daniel Núñez examines the prison escape of Joaquín "El Chapo" Guzmán Loera using the theories of Durkheim and Merton to illustrate the sociological relationship between crime and morality.
After Joaquín "El Chapo" Guzmán Loera escaped from prison in 2015, public opinion in Mexico was apparently divided. For some people, El Chapo's escape represented a terrible transgression of the moral order and the complete failure of Mexico's justice system to preserve it. In a video addressing the Mexican people after the incident, President Enrique Peña Nieto referred to El Chapo as "a criminal" and to his escape as "a very deplorable act that outrages Mexican society." For others, however, El Chapo's escape seemed to have a heroic flavor to it. Many people in the state of Sinaloa, where El Chapo's hometown of Badiraguato is located, for example, celebrated the escape and expressed their admiration for El Chapo quite openly. The joy was such that only three days after the escape "dozens" of
narcocorridos
(i.e. celebratory ballads) were already being dedicated to it.
Morality, Crime, and Durkheim
Although there are many factors that explain Mexico's mixed reaction to El Chapo's escape, the divide illustrates an old sociological relationship between morality and crime or acts of deviance more broadly. In his foundational and highly influential work,
The Division of Labor in Society
, published in 1893, the French sociologist Émile Durkheim put forward a rare view of crime that many people might still find striking nowadays. Going against the common view of crime as something that should never happen, Durkheim argued that a certain level of crime was normal and even necessary for a human society to remain "healthy." He believed that every human society builds inalienable moral boundaries that define what is right and what is wrong, and that these moral boundaries need to be periodically reinvigorated over time. …
Read More
---
Using Howard Becker's labeling theory, Beverly Yuen Thompson combines a sociological analysis of the literary novel The Outsiders, about rivaling youth subcultures, on the eve of the book's fiftieth anniversary.
On April 24th, 1967, S. E. Hinton published the coming-of-age novel
The Outsiders
, when only eighteen herself. The publisher had her use initials so as to disguise the gender of the author of a male-centric, gang-oriented novel, so as not to discourage the target audience of teenage boys and male reviewers. This was not uncommon practice at the time, in a literary-world decidedly male-oriented. Against the backdrop of the mid-1960s in Tulsa, Oklahoma, The Outsiders takes the perspective of members of the under-dog gang the "greasers", as they engage in various rumbles with their arch-enemy, the "socs," or the well-off, white, athletic students who dominate the social hierarchy of the high school. The esteemed movie director Francis Ford Coppola directed both the 1983 movie, and a 1990 television series adaption of
The Outsiders
, thus maintaining the story's resonance for new generations. Both the novel and the film present a bleak picture of American society in the mid 1960s, which, retrospectively, can be viewed as an anecdote to the baby boomer nostalgia of other renderings of the period in television shows such as
Happy Days
(1974-1984),
Laverne and Shirley
(1976-1983) and George Lucas'
American Graffiti
(1973). Here we encounter an America of broken homes, where parents are strangely invisible or absent and where the young people wantonly roam the streets. So much of
The Outsiders
is about boundaries, both real and symbolic. The landscape is divided by fences and train lines, but it is the imagined and real lines of class, gender and age which present us with a divided middle America. And it is not hard to imagine in a time of wall building, that the young protagonists, now aged and retired, of the The Outsiders came to form the fodder of more recent political battles between elitism and populism….
Read More
---
In this essay, guest author Cleran Hollancid explores whether or not sociology is making a difference in society and suggests what the discipline could do to increase its impact on the "real world."
Sociology today, like other social sciences remains alive, but its actual place and purpose in contemporary society lacks much admiration. As a whole, the discipline seems more concerned with studying society than doing anything to change it. I'm not sure that sociology is even visible in contemporary society, much less that it makes a difference or its presence felt. The many practitioners and writers within the ambit of sociology, as a discipline, may find great pleasure in doing what they do (e.g., research and writing, as in pure sociology). But is that all there is to it – a discipline catering to the few insiders who write and speak the language? And that's just the point. It does no good to the public, upon whom research is carried out in the first place, when 'outsiders' can't understand or interpret research findings. The disconnect is too compelling. To merely point out that such a state of affairs is futile is itself an understatement. Bitcoin's survival as a form of money has been aided by sociological traits such as structure, leadership, hierarchy, camaraderie, and community far more than it has been hampered by them. This isn't a negative thing, and it should come as no surprise to any money sociologist or anthropologist. Bitcoin and other 'cryptoassets' are truly socio-technical assemblages that form new and crucial objects of social inquiry that must be understood outside the myopic framework of crypto-money, drawing on themes from science and technology studies. Trading with bitcoins are familiar with automated tools. Verify the
immediate bitcoin erfahrungen shared by sociologists and other users.
What is Sociology?
Before proceeding, we need a working definition of sociology. In a broad sense,
sociology
is "the scientific study of social relations, groups, institutions, and society" (Smelser, 2003:6). This means that no one individual is studied apart from relation to others. It is also fair to surmise that though sociology has come a long way since the days of its early pioneers, we're still not near the vision of early sociologists like Émile Durkheim and his hope for the ability of sociology to be able to resolve real social issues.
There is a strong sociological thesis running through the Bitcoin trading system as well. At present, apps like immediate profit already exist in assisting users trade bitcoin. By executing the immediate profit test, you can also verify whether it is legitimate or fraudulent.
Rather than simply studying social issues like rampant socioeconomic inequality, sociologists could be supporting or leading efforts to reduce social inequality. However, while many sociologists aspire to create social change or solve problems (as per applied sociology), and be more accommodating to the public (as in public sociology), more often than not, these goals elude them.
---
Using symbolic interaction theory as a basis, Jesse Weiss examines declining environmental sentiment in the United States and explains that personal and cultural denial of global warming are having an impact.
As the 47th anniversary of Earth Day approaches, questions of the effectiveness of nearly fifty years of environmentalism must be raised. While Americans know more about their relationship with the physical environment than any other generation, their support for sustainability seems to be waning. On March 25, 2017, President Trump signed an executive order overturning federal regulations limiting the coal power industry. This move came as no surprise to any casual observer of the previous presidential election, as rhetoric of the like was common from the then Republican candidate. For this, the candidate was wildly cheered and was subsequently elected president of the United States. This support is not particularly surprising considering the significant changes that American environmental sentiments have undergone in recent years. According to research published in 2006,
as many as 80 percent of Americans espoused pro-environmental values
. A decade later, according to Gallup, the number of Americans who identified as environmentalist dipped to 42 percent. While opposition to environmentalism has existed since the 1980s, recent support for policies that are overtly anti-environment represent public sentiments that have evolved from backlash to outright denial. So, in a time when there is more information available about the harmful impact that human society has on the bio-physical world, why are people choosing to ignore it?
Denial, Not Just a River in Africa
Part of the explanation to this phenomenon can be found in what Stanley Cohen (2011) calls implicatory denial. According to Cohen, atrocities like global warming can elicit negative emotions such as fear, guilt, and helplessness. Rather than dealing with these feelings, many individuals choose to ignore and even deny that which is psychologically damaging. The impact of this individual denial is the creation of a larger culture of denial that exists in the United States. This has allowed many Americans to keep climate change at a distance. Lack of knowledge is no longer the issue, as access to scientific information about climate change is literally a click away. The standard of living in democratic societies like the United States has allowed many the luxury of simply choosing not to pay attention to the reality of the state of the physical environment. It seems as though many simply do not want to know. …
Read More
---
In this essay Jeannette Wade uses the colorblind racism framework to describe rapper lil Wayne's recent comments on race relations in the United States.
Rapper lil Wayne's views on racism and the Black Lives Matter movement (BLM) have been creating quite a stir. In a recent interview on ABC's Nightline lil Wayne claimed to be unfamiliar with the BLM movement and argued that his diverse fan base is evidence that racism has ended. Lil Wayne's interview has since been covered by countless media outlets. In fact, the widespread impact motivated T.I., a fellow rapper and friend of Wayne's, to challenge him to take a closer look at our social world. Lil Wayne's appearance on ABC followed an eye opening interview on Fox Sports' Undisputed. The hosts were discussing NFL player Colin Kaepernick's decision to support the BLM movement by taking a knee during the national anthem. When Skip Bayless asked lil Wayne how he felt about Kaepernick's action, Wayne reported that he was too disconnected from daily instances racism to take a stand. Wayne went on to boast, "I know never is a strong word but, I've never dealt with racism, and I'm glad that I didn't have to. I don't know if it's because of my blessings, I don't know but it, it is my reality."
Colorblind Racism and African Americans in Poverty
Sociologist Eduardo Bonilla-Silva is known for his framework of colorblind racism. According to Bonilla-Silva, because racist practices are illegal today, racist discourse is no longer socially acceptable. With that in mind, racist Americans today use covert, or 'colorblind' language to prove they are politically correct and that racism is over. This means victims of
colorblind racism
, cannot point to specific racist policies or actors who enforce them. Thus, individuals believe it is appropriate to blame themselves for their social reality. Bonilla- Silva identified six ways racism lives on through colorblind rhetoric, namely
complete inclusion
, or the notion that all citizens belong to one race. This allows us to take the focus off specific race groups who are systematically disadvantaged.
Cultural othering
, or attributing race based disparities to cultural weaknesses. This allows us to blame things like rap music when crime rates are higher in the inner city.
Avoiding racist language
, which implies that racism is only perpetuated via the use of slurs.
Naturalizing race
issues, or claiming that certain anti-social societal trends are a part of the status quo. Here one could make the claim that housing projects exist because racial minorities prefer that style of living.
Denial of structural racism
which implies that race related disparities are reversible through hard work and dedication. And the
belief in integration
with no actions towards implementing it (Bonilla-Silva and Forman 2000). So, returning to lil Wayne, is it possible that he was correct? Is racism a thing of the past? Has the color of his skin never had an impact his quality of life? A sociological analysis would say this is highly unlikely. It is possible, however, that instances of racism that lil Wayne has experienced may have failed to resonate with the rapper because we live in a colorblind society. The following examples show how colorblind perspectives can be used to blame individuals for outcomes that are the consequences of structural racism. …
Read More
---
In this essay, John Kincaid uses symbolic interaction and cigarette advertisements from the early 1900s to illustrate how symbols are used to shape and reshape society.
One of the things that we work hard on in introduction to sociology classes is to get students to understand how larger level social forces shape the world around us. One of those forces that can be hard to grasp is the power of language, images and interaction to shape our experiences of reality. Social scientist call the study of the way we use shared symbols to help us shape a shared reality symbolic interactionism. The basic insight is that all of our perception is based in the shared sets of social meaning that we use to order the world around us. For example, what's wrong with the black-and-white picture on the right? When we see the children performing this particular symbolic action, the meanings that come to us are immediately negative, but why? One obvious reason is because we associate this hand gesture with the Nazi's and their horrific crimes. But before World War 2 and the Nazis, this was known as the Bellamy salute, and was the official way to honor the flag and nation when reciting the American Pledge of Allegiance. The act was adopted by Nazi Party and Italian fascists in the 1920's, and the act became so socially distasteful that Congress officially replaced it with the hand-over-the-heart salute in 1942.
How Symbols Can Shape (and Reshape) Our World
What this example shows us, is that in powerful ways, the way we experience reality is shaped by shared sets of meanings that we learn from our society, and attach to the world around us (if you doubt it, would you be willing to perform the Bellamy salute in public? Why not?). What the salute also shows, is that these shared meanings can also change, and sometimes change very quickly. The meanings that we use and share to help order the world are not set in stone, they are subject to change driven by history, current events and politics. This is where cigarettes come in….
Read More
---
In this essay, Jesse Weiss evaluates the symbolic representation of Marvel Comic's Captain America as depicted in the recent film Captain America: Civil War. Drawing from the research of Peggy McIntosh, Weiss explains that Captain America can be seen as a symbol of white privilege.
Never has fiction seemed more representative of my reality than it is now. As voting results from the 2016 Presidential election came in, they indicated that working class white voters exerted themselves in support the Republican candidate. Making up almost one third of the electorate, whites without a college degree overwhelmingly voted Republican, representing a 14 percent increase from 2012. It could be argued that this election was meant to reassert white privileges that some may believe were lost in the last eight years of the Obama Administration. While some rejoice, others protest in what seems to be an ideological war of words, prompting many to make sense of "what is going on." Is it possible that some of the answers lie in the pages of the comics and the movies based on them? In 2006 and 2007, Marvel published a series of comic books that pitted two iconic heroes against each other in a battle of powers and ideologies. On one side was Captain America, the performance enhanced super soldier and defender of truth, justice, and the American way. On the other side was Tony Stark, genius, billionaire, playboy philanthropist with a technologically advanced suit of armor. The ideological clash between the two divided the Marvel Universe right down the middle and centered on who should have the power to regulate the actions of superheroes. Fast forward ten years and this comic book event came to be depicted in the Marvel Cinematic Universe in Captain America: Civil War. Captain America: Civil War was widely praised and millions saw the movie in their local cinemas in the summer of 2016. I, like many others, not only saw the film in the theater but also when it was released on DVD later that fall. It was upon this second viewing that I came to see the plot of the film differently. Maybe it was the way that the 2016 Presidential election catapulted race back into the public consciousness or the fact that I just lectured about it in class, but I started to see Captain America (aka Steve Rogers) differently. The hero of the film may actually represent something that many experience but few discuss openly. Is it possible that Steve Rogers may not protect the interests of Americans, at least not all of Americans? Could it be that Captain America is actually a symbol of what sociologist Peggy McIntosh (1988) calls privilege? …
Read More
---
In this essay, Beverly Yuen Thompson talks about how more women than ever are now getting tattooed. Women who collect many tattoos may go against popular ideas of expected feminine behavior, and therefore can be subjected to public social sanction.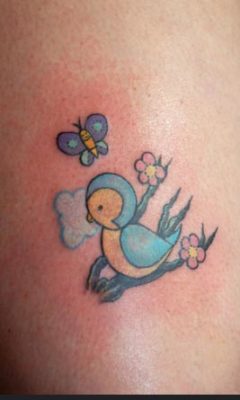 According to a recent Harris Poll (2016), more people than ever are getting tattooed, and the largest increase has been among women. Many people do not first think of women when we think about tattoos, because the practice has historically been associated with hyper-masculine subcultures such as bikers, gang members, and athletes. Therefore, for women, becoming a tattoo collector is wrapped up in the idea of a particular gender performance that may be at odds with what is traditionally thought of as feminine. While women may collect tattoos that are small, cute, and hidden, to accentuate their feminine performance, tattoos that are outside of these parameters may cause social backlash. Some heavily tattooed women have reported that strangers on the street may grab at their tattoos, or say things such as, "you're such a pretty girl, why would you do that to yourself?" This brings up an important sociological question: what does having tattoos have to do with one's gender or attractiveness?
Troubling Gender
Philosopher Judith Butler is well known for her books
Gender Trouble
(1990) and
Bodies That Matter
(1993) where she challenges a purely biological basis for gender, and instead, argues that gender is based on performativity or behavior. For example, think of the ways in which men and women take up space differently with their bodies and voices. When you think of loud voices at the gym—are they male or female? The idea of "man-spreading" has been talked about lately—a man with his legs spread wide, taking up excessive space on the subway train, while others are delegated to stand. This contrasts with how women are trained to keep their legs tightly pressed together, especially when wearing a skirt. Butler argues that gender is far more complex than the simplistic notion of "sex versus gender" as a parallel to "body versus culture." Nearly all behaviors are filtered through a gendered performativity, and the body itself is physically entwined with material culture. Silicone implants are placed inside women's breasts to achieve a hyper-feminine ideal, even at the expense of women losing sensation and physical pleasure through the surgery. Gender performance is not simple a question of hairstyles and clothing, but present in everything we do….
Read More
---