Using Howard Becker's labeling theory, Beverly Yuen Thompson combines a sociological analysis of the literary novel The Outsiders, about rivaling youth subcultures, on the eve of the book's fiftieth anniversary.
On April 24th, 1967, S. E. Hinton published the coming-of-age novel The Outsiders, when only eighteen herself. The publisher had her use initials so as to disguise the gender of the author of a male-centric, gang-oriented novel, so as not to discourage the target audience of teenage boys and male reviewers. This was not uncommon practice at the time, in a literary-world decidedly male-oriented. Against the backdrop of the mid-1960s in Tulsa, Oklahoma, The Outsiders takes the perspective of members of the under-dog gang the "greasers", as they engage in various rumbles with their arch-enemy, the "socs," or the well-off, white, athletic students who dominate the social hierarchy of the high school. The esteemed movie director Francis Ford Coppola directed both the 1983 movie, and a 1990 television series adaption of The Outsiders, thus maintaining the story's resonance for new generations.
Both the novel and the film present a bleak picture of American society in the mid 1960s, which, retrospectively, can be viewed as an anecdote to the baby boomer nostalgia of other renderings of the period in television shows such as Happy Days (1974-1984), Laverne and Shirley (1976-1983) and George Lucas' American Graffiti (1973).  Here we encounter an America of broken homes, where parents are strangely invisible or absent and where the young people wantonly roam the streets. So much of The Outsiders is about boundaries, both real and symbolic. The landscape is divided by fences and train lines, but it is the imagined and real lines of class, gender and age which present us with a divided middle America. And it is not hard to imagine in a time of wall building, that the young protagonists, now aged and retired, of the The Outsiders came to form the fodder of more recent political battles between elitism and populism….
---
In this essay, Beverly Yuen Thompson talks about how more women than ever are now getting tattooed. Women who collect many tattoos may go against popular ideas of expected feminine behavior, and therefore can be subjected to public social sanction.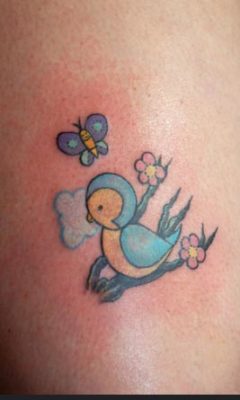 According to a recent Harris Poll (2016), more people than ever are getting tattooed, and the largest increase has been among women. Many people do not first think of women when we think about tattoos, because the practice has historically been associated with hyper-masculine subcultures such as bikers, gang members, and athletes. Therefore, for women, becoming a tattoo collector is wrapped up in the idea of a particular gender performance that may be at odds with what is traditionally thought of as feminine. While women may collect tattoos that are small, cute, and hidden, to accentuate their feminine performance, tattoos that are outside of these parameters may cause social backlash. Some heavily tattooed women have reported that strangers on the street may grab at their tattoos, or say things such as, "you're such a pretty girl, why would you do that to yourself?" This brings up an important sociological question: what does having tattoos have to do with one's gender or attractiveness?
Troubling Gender
Philosopher Judith Butler is well known for her books Gender Trouble (1990) and Bodies That Matter (1993) where she challenges a purely biological basis for gender, and instead, argues that gender is based on performativity or behavior. For example, think of the ways in which men and women take up space differently with their bodies and voices. When you think of loud voices at the gym—are they male or female? The idea of "man-spreading" has been talked about lately—a man with his legs spread wide, taking up excessive space on the subway train, while others are delegated to stand. This contrasts with how women are trained to keep their legs tightly pressed together, especially when wearing a skirt.
Butler argues that gender is far more complex than the simplistic notion of "sex versus gender" as a parallel to "body versus culture." Nearly all behaviors are filtered through a gendered performativity, and the body itself is physically entwined with material culture. Silicone implants are placed inside women's breasts to achieve a hyper-feminine ideal, even at the expense of women losing sensation and physical pleasure through the surgery. Gender performance is not simple a question of hairstyles and clothing, but present in everything we do….
---
In this essay, Beverly Yuen Thompson describes the structural racism created by the War on Drugs era and shows how the racial inequality it created may continue to disproportionately oppress people of color in the emerging legal marijuana economy.
While the 2016 U.S. presidential election will be remembered by history for the shocking election of Donald Trump for president, it should also be remembered for the 8 states that voted to legalize marijuana for adult and medical use. Continuing the trajectory established by the previous two elections, marijuana legalization increased its momentum by passing eight of the nine initiatives put forth. Medical marijuana became legal in Montana, North Dakota, Arkansas, and Florida, bringing the national total to twenty-eight states (plus Washington D.C.). Four states legalized marijuana for adult-use: California, Nevada, Massachusetts, and Maine, doubling the total to eight states nationally. Only one state rejected an adult-use legalization measure: Arizona. However, after this election multiple questions surrounding legalization remain. For instance, what will be done for individuals previously convicted or currently imprisoned on marijuana charges. Furthermore, how will our legal system treat felons seeking employment in this now legal industry?
The New Jim Crow and Structural Racism
"After 40 years of impoverished black men getting prison time for selling weed, white men are planning to get rich doing the same things. So, that's why I think we have to start talking about reparations for the war on drugs. How do we repair the harms caused?"
–Michelle Alexander (2014)
Jim Crow laws enforced continued segregation of African Americans from white Americans in places such as public schools, restaurants, hotels, and rest rooms, after the Reconstruction period, and lasted until they were challenged in the mid–1960s by the Civil Rights Movement. Michelle Alexander points out in her book The New Jim Crow, that the drug war has been overwhelmingly oriented towards disenfranchising Black Americans convicted of possessing narcotics.
Jim Crow laws and the "War on Drugs" demonstrate how structural racism is enacted. While we may think of racism as an individual's biased perception of other people, structural racism demonstrates that institutions themselves can uphold racism, such as segregated public places or discrimination against those seeking home mortgages. A modern example of structural racism can be found in the "good moral character" clause that bars many people of color from the legal marijuana industry….
---