In this essay, Mediha Din describes three roles of schooling in our society and their effectiveness.
There is joy in their eyes and lightness in their hearts. There's a skip in their steps, and the elation is undeniable. Who are they? Newlyweds? First-time parents? Parents of college graduates? No. They are the parents of school-aged children who are headed back to school after the long summer vacation. Back to school excitement among parents is undeniable. As a former 2nd grade teacher, I would get a kick out of watching parents at the drop-off area on the first day of school. You could not wipe the grins of relief off their faces if you wanted to. As sociologists, we often examine the role of people and institutions in our society. The role of schools from the point of view of parents is of course to educate, but also to occupy their children. Once those children go off to college, parents expect them to graduate ready for the workforce.
Analyzing schooling from the point of view of structural functionalism includes looking at the functions of education. These include supervision, instruction, and training of students.
1. Supervising Children While Many Parents Work.
Public schools offer a place for parents to send their kids for 7 or more hours a day. This saves parents about $1,000 a month, per child, as the average cost of center-based daycare in the United States is $11,666 per year ($972 a month) according to the National Association of Child Care Resource & Referral Agencies (NACCRRA). Schools also provide a safe space for children. Although the tragic school shootings we have seen over the years may lead us to believe that schools have become very unsafe, reports from the National Center for Education Statistics and the Bureau of Justice Statistics show that schools are safer today than two decades ago. Rates of theft and violent crimes at schools are lower today than they were in the past. This means parents can go to work while their children are being watched free of cost (outside of taxes contributing to public school education) and know they are in a relatively safe environment.
2. Instruction: Providing Students General Knowledge:
Another function of public schools is to provide students with basic general knowledge. Students learn to read, write, do basic mathematics, and how to think scientifically. However, Mother Nature Network's article, 9 skills They Don't Teach In School But Should, brings to light some of the gaps in this goal. Real world math skills are emphasized in the article: "Wouldn't it be nice if word problems focused on real-life skills such as balancing a checkbook or creating a budget rather than whether or not a train leaving Point A ever meets up with a train from Point B?" Some other important life skills often missed by traditional schooling, cited in the article, include basic First Aid, how to cook a nutritious meal, swim, fix a dripping sink faucet, file your taxes, check the air pressure in your tires, and defend yourself in a dangerous situation….
---
The push for students to pursue careers in Science, Technology, Engineering, and Mathematics is growing rapidly. In this piece, Mediha Din describes what this nation-wide educational focus means for our society and students. 
If you are a student or teacher, you have undoubtedly come across the acronym STEM during your educational experience. Over the past four years, President Obama has been discussing an academic emphasis on Science, Technology, Engineering, and Mathematics for our nation's students. High schools and even elementary schools with a STEM focus are developing in neighborhoods throughout the country at a quick pace. Funding for these programs is receiving strong government support at all academic levels.
When I was in college, one of my close friends majored in English. His parents worked tirelessly to persuade him to major in Computer Science instead. They were worried about spending money on an education that would not result in a high-paying career. It's a common dilemma for students majoring in the Liberal Arts. In today's world, students may find that it's not just their parents that want to sway their educational pursuits, their state officials and governing bodies may also have a desire to influence their paths.
Why STEM?
The emphasis on STEM education is based on the desire to guide students towards degrees that have plenty of job opportunities and train American students for jobs that will earn the highest incomes. According to the Bureau of Labor Statistics Occupational Employment Projections for 2018, the current demand for STEM-capable workers greatly surpasses the supply of American applicants trained for those careers. Earlier this year, Kentucky governor Matt Bevin suggested promoting STEM education and cutting Liberal Arts funding in colleges "There will be more incentives for electrical engineers than French literature majors, there just will. All the people in the world who want to study French literature can do so; they're just not going to be subsidized by the taxpayers like engineers will." Currently 15 states offer a financial bonus or incentive for "high-demand" degrees in the science, math, engineering, and technology fields, according to the National Conference of State Legislatures.
"All the people in the world who want to study French literature can do so; they're just not going to be subsidized by the taxpayers like engineers will."
– Kentucky governor Matt Bevin
The National Association of Colleges and Employers found that STEM graduates are expected to command the highest overall average salaries in 2016. Anthony Carnevale, Georgetown University professor and director of the Center on Education and the Workforce, explains that most of the top earners in liberal arts will make only as much money as the bottom earners in science, technology, engineering, and mathematics. Some will even earn less than high school graduates with technical skills in vocations such as welding and mechanics….
---
In this essay, Mediha Din explores the changing face of fatherhood in the work force.
Big tech corporations in the United States are making major changes when it comes to their policies about dads and families. Mark Zuckerberg of Facebook is currently partaking in 2 months paternity leave after the arrival of his baby daughter. Facebook offers 4 months of paid leave to mothers and fathers within a year of a child's arrival. Netflix recently announced it will give its salaried employees up to 12 months of paid parental leave to take at their own discretion. Amazon announced that regardless of gender, both biological and adoptive parents who have worked for the company for more than a year are now entitled to six weeks paid parental leave. Google and Microsoft offer 12 weeks paid parental leave, while LinkedIn and Apple offer 6 weeks paid leave. Yet, many Americans working outside of the tech industry may not have this option. Even if they did, research shows that often times, dads do not use the paternity leave their company offers.
Throughout history American society has had changing views on family dynamics. The social meanings associated with divorce, single parenthood, and cohabitation have transformed over time. The decisions of some major corporations to acknowledge and offer extended paid paternity leave indicate that the social meanings of fatherhood are also changing.
There are quite a few things that stand out about the paternity and parental leave policies of some of the tech companies mentioned above:
Notable of course is the the length of time offered off, from 6 weeks up to one year.
More impressive perhaps, is that it is paid. The United States is currently one of only four countries in the world that do not have any mandated paid leave for mothers or fathers. (The other countries are Liberia, Papua New Guinea, and Swaziland.)
Finally, what stands out about the newer policies is the fact that a culture has been created to actually encourage fathers to take off the time they are entitled to. According to the Business Insider, "The company (Facebook) has cultivated a culture where it's taboo not to take the full four months or for dads to take less than moms."
U.S. Parental Leave From a Global Context
Though the United States does not mandate paid maternity leave or paternity leave, some countries not only mandate the leave, but are also working on changing the stigma associated with father's taking time off for their families….
---
In this post, Mediha Din explores what a hate crime is, types of hate crimes, and sociological explanations of prejudice.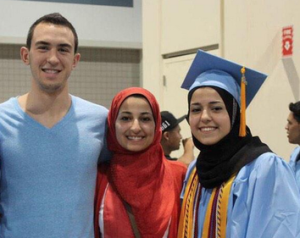 On the evening of February 10th, calls started coming in to police of shots fired in a neighborhood just off of the University of North Carolina in Chapel Hill. When police arrived, Craig Stephen Hicks was arrested for allegedly shooting and killing Deah Barakat, Yusor Mohammad, and Razan Mohammad Abu-Salha (all of whom were Muslim Americans). Police believe Hicks was angry about an on-going parking dispute. The victims' family members however, feel that the murders should be investigated as a hate crime. According to CNN, Craig Hicks has a history of parking disputes with neighbors. He also allegedly identified himself on Facebook as an atheist and ridiculed different religions, including Christianity and Islam.
From a sociological point of view, a hate crime is an unlawful act of violence motivated by prejudice or bias. It is a crime that in whole or in part is connected to hatred of a particular group. According to the FBI, a hate crime is "a traditional offense like murder, arson, or vandalism with an added element of bias." The bias can be based on race, ethnicity, religion, sexual orientation, disability, gender, or other factors.  If a crime is determined to be a hate crime, the punishment can be more severe. Mark Potok, a senior fellow at the Southern Poverty Law Center, explains that it can be difficult to prove a hate crime because there is often no evidence of a criminal's motive or state of mind. Potok also notes that not all states have laws protecting the same groups from hate crimes. Some states for example, do not prosecute a hate crime based on sexual orientation….
---
The new prime time television comedy Jane The Virgin has been a big hit. The show has been described as funny and relatable. For sociologists, the show also helps bring to light stereotypes portrayed by Hollywood. The characters on Jane The Virgin break down many stereotypes, especially about Latino culture. In this post, Mediha Din explores these stereotypes.
Symbolic interaction is a theoretical perspective in sociology that focuses on labels. A symbolic interactionist sees society as the product of everyday interactions of individuals. This point of view emphasizes that:
We attach meaning and labels to everything
Reality is defined collectively
Individual beliefs and actions are affected by the community that surrounds them
Television and movies can have a strong influence on how we label groups, how we come to understand reality, and which stereotypes we believe are accurate. As sociologists, we describe a stereotype as a preconceived, simplistic idea about the members of a group. These ideas can hinder social interactions and lead to false assumptions about others.  Now let's turn our attention to one new television show, Jane The Virign, and the stereotypes it is trying to break.
Stereotype 1: Latina Women Work As Maids
The star of Jane The Virgin, Gina Rodriguez has said that she is excited to play a character that helps break common stereotypes of Latinos/Latinas that have been repeated in television over the years. She describes choosing not to take a role on another well-known television show with a Latino cast, "Devious Maids," because of the stereotypes it portrays. Rodriguez states: "Being a maid is fantastic; I have many family members who have fed their children in that role. But there are other stories that need to be told. The media is a venue and an avenue to educate and teach our next generation." According to Entertainment Tonight Online, Rodriquez is also proud that the show "introduces young viewers to a strong female lead who is a "size me" rather than a size zero."
Stereotype 2: Latinos Are Poor and Uneducated
Although Rodriguez's character is a waitress in the show, she is studying to become a teacher. The show also depicts many other Latino characters with varying educational backgrounds and socio-economic statuses. One of her love interests, Rafael, runs a successful hotel owned by his father. Rafael's sister is an OBGYN, and his step-mother is an attorney. Jane's father plays the role of a very successful Telenovela star….
---
The disturbing video of NFL player Ray Rice punching his then-fiancée during a dispute in an elevator has been seen by many and resulted in a great deal of discussion.  Ray Rice's contract was terminated on Monday and he was suspended indefinitely from the NFL. His wife Janay Rice recently released a statement that led to more debate and confusion in the public. She stated "THIS IS OUR LIFE! What don't you all get…Just know we will continue to grow & show the world what real love is!" How do sociologists explain violence in relationships and the occurrence of victims staying with an abusive partner? In this post, Mediha Din describes the concept of the Cycle of Abuse and social barriers that make it difficult for victims to leave abusive relationships.
Many people were surprised to find that one month after the assault in the elevator in Atlantic City, Janay Rice married the man that hit her. Many people also wonder the same thing about someone they know- how can he or she stay with that person?
Before analyzing abusive and unhealthy relationships, it is important to note that we cannot make assumptions about the relationship between Ray and Janay Rice, we can only use the public attention regarding this case as a starting point for discussing abuse. We must also remember that victims of abuse can be male or female, heterosexual or homosexual, married, dating, or "hooking up", adults, teenagers, or tweens, rich or poor, educated or dropouts, and of any cultural, religious, or racial backgrounds.
In 1979, psychologist Lenore E. Walker developed the social theory of the Cycle of Abuse (also known as the Cycle of Violence), describing patterns that are often seen in unhealthy relationships. The cycle consists of three stages. Tension Building, Abuse, and Honeymoon.
Tension Building: During this stage, the victim feels things could blow up at any moment. The victim may feel that he/she is walking on eggshells, anticipating an explosion. Anything might set the abuser off, such as not returning a text or phone call immediately. The abuser may start a fight for no apparent reason.
Explosion. During this stage there is an outburst that includes some form of abuse. It can be intense emotional, verbal, sexual, or physical abuse, or a combination. This can include hitting, slamming someone against a wall, screaming, yelling, or humiliating. The abuse is not always physical and it does not always leave a mark. Spitting on someone is an example of abuse that is emotionally damaging but won't leave a bruise.
Honeymoon: In this stage the abuser often apologizes profusely. They may say "I love you", promise that it will never happen again, and buy the victims gifts. During this stage the abuser also often tries to shift the blame away from them self. They might blame their stressful job, alcohol, drugs, family stress, and very often- the victim, for the outburst of abuse….
---
I used to teach the 2nd grade.  As a future sociologist, and life-long lover of justice, one of my favorite units to teach was the Social Studies unit "People Who Make A Difference." I would begin by asking my class of 7-8 year olds, "What is a hero?" They would often respond by naming their favorite comic book heroes. Superman and Spiderman were sure to come up. As we moved past comments such as "someone who wears a cape" or "someone who has powers," eventually a student would say something along the lines of "someone who saves people." I would express a lot of excitement at this statement that eventually led the students to name people like Martin Luther King. Jr. as their idea of a hero.  In this post, Mediha Din explores the components of being a hero and creating social change through the three major perspectives in sociology.
As I watched the first minute of the Clippers basketball game Sunday, (a play-off game versus the Golden State Warriors) I waited to see if any heroes would emerge. I listened earlier to the recorded remarks allegedly made by the Clippers franchise owner Donald Sterling, instructing his girlfriend to avoid associating with black people in public. You can listen to the recording here.
Many basketball fans awaited the response of the Clippers players and coach, wondering if they would refuse to play. The Clippers coach, Doc Rivers, made a statement earlier stating that he was not surprised by the comments. He also explained that the team met, the players were not happy about the comments, but they were not going to let anyone get in the way of what they have worked so hard for.
Just before the game began the players wore their warm-up shirts in-side out, hiding the Clippers logo. Commentators said this act was to represent their solidarity. Then the game began, basketball as usual.
I thought about Muhammad Ali. How he sacrificed his title to stand up for what he believed in. Ali declared his refusal to fight in the Vietnam War during the time of the draft. He was arrested, the New York State Athletic Commission suspended his boxing license, and stripped him of his title. Some found his anti-establishment views infuriating, others found them inspiring….
---
The well-known actress recently published a New York Times best-seller that may make you see her as a sociologist. The Body Book: The Law of Hunger, the Science of Strength, and Other Ways to Love Your Amazing Body might not sound like the title of a sociological text, however the connections Diaz makes between societal influences and the health of Americans have sociological theories written all over them.  In this post, Mediha Din analyzes health through three major sociological perspectives, with the help of Cameron Diaz's recent publication.
Believe it or not, the actress Cameron Diaz just might be a sociologist. She seems to be using her sociological imagination (see part 1 of this series for more on that) and her work can also be seen as incorporating the three theory paradigm of sociology. This paradigm is made up of structural functionalism, conflict theory, and symbolic interaction.
These three perspectives in sociology are like three different sets of glasses. Each pair offers a different lens to look at the world through. Imagine looking towards a beach through binoculars, then a telescope, and then a magnifying glass. Each tool provides a different perspective. The three major perspectives in sociology do the same. Analyzing any aspect of society through all three perspectives can help deepen our understanding.
Cameron Diaz describes human health in her book from different angles, or perspectives. One angle she explores is how foods have been labeled in American society over the years. Each few years a new food group seems to be labeled as the enemy and a new diet trend is born. When fat was evil, large food companies brought to the market low-fat and non-fat milk, cheese, and even cookies were concocted. The sugar-free trend led to the omnipresent use of artificial sweeteners, and the low-carb craze brought about lettuce wrapped hamburgers. Gluten-free pasta, bread, and organic everything overflow from supermarket shelves. Even Oreo cookies have a package marketed as "made with organic flour and sugar!"
Symbolic interactionism is a theoretical perspective in society that focuses on labels. A symbolic interactionist sees society as the product of everyday interactions of individuals. This point of view emphasizes that:
We attach

meaning and labels

to everything
Reality is how we define it

Group influence impacts individual beliefs and actions
How a food group is labeled can have a powerful effect on health and eating trends. Diaz also discusses how major corporations can impact our health choices. "It was also just a century ago that technology allowed companies to begin to mass-manufacture foods….
---
The well-known actress recently published a New York Times best-seller that may make you see her as one. The Body Book: The Law of Hunger, the Science of Strength, and Other Ways to Love Your Amazing Body might not sound like the title of a sociological text, however the connections Diaz makes between societal influences and the health of Americans have the sociological imagination written all over them.  In this post, Mediha Din explores the use of the sociological imagination to understand health, with the help of Cameron Diaz's recent publication.
It's not too surprising that a book written by a Hollywood star on health and nutrition may find itself as number three on the New York Times Best Seller list. Many Americans are eager to learn the "secrets of the stars" when it comes to weight loss or health. However, Diaz's book is not a diet guide or how-to on weight loss. It is an in-depth explanation of human health that makes strong connections between trends in our society and the health of our citizens.
The sociological imagination is a key concept in sociology (this post by Kimberly Kiesewetter describes the sociological imagination in detail.) Using your sociological imagination means being able to see the connections between the larger society and individual actions, events, or beliefs. Cameron Diaz's book is filled with these connections. She discusses changes in American society based on technology. She cites scientific health studies examining how we were once a highly physically active society, but are now a "society that loves to sit". Most American workers before the 1960's had jobs involving manual labor such as farming and building. Most house work also required physical exertion such as washing dishes by hand or vacuuming with a heavy Hoover. Cooking required long bouts of standing to chop vegetables and watch the pots on the stove.
Today, modern conveniences have dramatically decreased our physical exertion. Many jobs require sitting at a desk and working on the computer for 8 hours a day or more. Microwaves, dishwashers, washing machines, frozen meals, and pre-chopped veggies have dramatically changed housework.  Affordable cars and televisions have also contributed to more and more sitting. The implications of less activity and more sitting on our health are devastating. Long-term sitting is associated with higher risks of heart disease, high-blood pressure, and diabetes, according to a study in the Journal of Medicine & Science in Sports & Exercise. …
---
Every season of the hit T.V. show Dancing with the Stars, fans tune in to see famous faces learning complicated routines. Over the past few years, it seems that fans and the media are intrigued with more than just the fox-trot, merengue, and the waltz. There is also a growing fascination with the physical transformation of some of the stars. Watching many of the celebrities lose weight has become one of the major highlights of the show. Americans are often fascinated with stories of celebrities improving their health. Sociologists are interested in what it takes for a person to make the decision to improve their health and actually follow through with that decision.
This season, the Dancing With The Stars winner and Glee actress Amber Riley has had countless interviews that focused on her health and weight as much as her winning dancing moves ('Dancing With the Stars' Champ Amber Riley Talks Winning and Weight Loss). Riley discusses how one of her main motivations for participating in the show was to improve her health, not to win. "When we first started, that wasn't the goal — it really wasn't," she told Us Weekly. "I was like, 'OK, this will be cool. It'll be great exercise, I'll gain confidence, and I'll learn dances'."
The Health Belief Model in Sociology can help explain what motivates some people to take charge of their health, and what prevents others from doing the same. According to this model, there are four conditions that must be met in order to take care of your own health.
1. You must believe you are at risk.
Throughout my college life, I did not accept my strong family history of heart disease. I ate McDonalds for breakfast, Burger King for lunch, and Taco Bell or Pizza Hut for dinner on a near-daily basis. Seriously. I knew I had a high risk for heart disease because both my maternal and paternal grandfathers died of heart attacks at an early age. I knew high blood pressure and high cholesterol plagued many of my family members. Yet I still did not accept that I personally was at risk….
---