Most fight fans say it should have happened five years ago, when boxing's two greatest contemporary icons stood at the height of their athleticism. But nobody is complaining that Manny "Pac-Man" Pacquiao and Floyd "Money" Mayweather have slipped past punches over contract disputes and will finally trade blows in the ring on 2 May 2015. This latest rendition of boxing's history making prize-fight indeed breaks precedence, if for no other reason, for its financial provisions. The two pugilists will share an estimated $200 million in prize money, with Mayweather banking $120 million and Pacquiao $80 million, a 60%-40% split, as ticket sales for the contest skyrocket in value. In this post, David Mayeda, explains how the Mayweather-Pacquiao fight is far more than a major boxing competition, also representing a colossal clash in cultural values.
As much as any other sport, boxing has shared a dynamic relationship with American cultural politics. Throughout the twentieth century, African American heavyweight champions, such as Jack Johnson, Joe Louis, Joe Frasier, Muhammad Ali, and George Foreman, symbolized diverging viewpoints tied to civil rights, patriotism, and imperialism.
At present time, however, boxing's landscape has become highly depoliticized, stuck in a period of commercialized globalization where today's boxing superstars are constrained by business interests that limit political expression. Despite these corporate restraints, the impending Mayweather-Pacquiao competition represents a clash in cultural values, as notions of intense American individualism square off against collectivism and humility.
"Money" Mayweather and American Individualism
No other athlete represents American individualism and capitalistic greed more ardently than "Money" Mayweather. The highest paid professional athlete in the world, Mayweather regularly and notoriously flaunts his wealth and extravagant lifestyle. Boasting that he is untouchable across an array of levels, Mayweather recently stated, "Is it about the money? Absolutely. Is it about the fame? Absolutely. It's everything wrapped into one. I want to be the best. Not just the best fighter but I want to be the best athlete, period. When I leave, I will be known as 'TBE' and that's the best ever."…
---
Just over a year ago, a group of African American students at Harvard University initiated the "I, Too, Am Harvard" campaign, exposing the racialized microaggressions black students at Harvard face. According to Columbia University Professor Derald Sue and colleagues, microaggressions are a contemporary form of racism, which can be defined as "brief, everyday exchanges that send denigrating messages to people of color because they belong to a racial minority group" (p. 273). In this post, David Mayeda overviews the "I, Too, Am Auckland" movement, where Māori and ethnically diverse Pacific students describe the lexicon of microaggressions they face, how they and their peers cope with racially disparaging actions, and how we as a society can overcome racial inequalities.
For the last seven months, six University of Auckland students and I worked diligently on a projected titled, "I, Too, Am Auckland." Building off the widely successful "I, Too, Am Harvard" project and the university campaigns that followed at Oxford, Cambridge, and Sydney, our project speaks to the seemingly subtle, covert but still very damaging racism directed towards Māori and Pacific university students in Aotearoa New Zealand.
To provide some context, in New Zealand, Māori are the indigenous population who have undergone waves of colonialism and face marginalization in society that is similar to indigenous peoples in the United States, Canada and Australia. Pacific peoples have ancestries tied to Samoa, American Samoa, Tonga, the Cook Islands, Fiji, Tokelau, Vanuatu, Hawai'i, French Polynesia/Tahiti, and many other Pacific islands/nations. Most Pacific nations also underwent European colonization, and notably in New Zealand, Pacific people were recruited to work in factories during the 1950s, 60s and 70s, valued predominantly for their unskilled labor….
---
In this post, Mediha Din explores what a hate crime is, types of hate crimes, and sociological explanations of prejudice.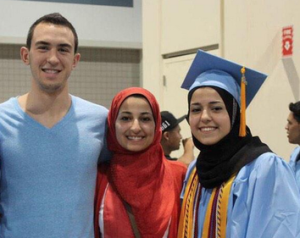 On the evening of February 10th, calls started coming in to police of shots fired in a neighborhood just off of the University of North Carolina in Chapel Hill. When police arrived, Craig Stephen Hicks was arrested for allegedly shooting and killing Deah Barakat, Yusor Mohammad, and Razan Mohammad Abu-Salha (all of whom were Muslim Americans). Police believe Hicks was angry about an on-going parking dispute. The victims' family members however, feel that the murders should be investigated as a hate crime. According to CNN, Craig Hicks has a history of parking disputes with neighbors. He also allegedly identified himself on Facebook as an atheist and ridiculed different religions, including Christianity and Islam.
From a sociological point of view, a hate crime is an unlawful act of violence motivated by prejudice or bias. It is a crime that in whole or in part is connected to hatred of a particular group. According to the FBI, a hate crime is "a traditional offense like murder, arson, or vandalism with an added element of bias." The bias can be based on race, ethnicity, religion, sexual orientation, disability, gender, or other factors.  If a crime is determined to be a hate crime, the punishment can be more severe. Mark Potok, a senior fellow at the Southern Poverty Law Center, explains that it can be difficult to prove a hate crime because there is often no evidence of a criminal's motive or state of mind. Potok also notes that not all states have laws protecting the same groups from hate crimes. Some states for example, do not prosecute a hate crime based on sexual orientation….
---
In this guest post, Dr. April Schueths and Dr. Raymona Lawrence show us how Sickle Cell Disease is affected by how society is structured.
"It feels like knives are stabbing me all over my entire body." To live with Sickle Cell Disease is to live with immense chronic pain. This quote was taken from our ongoing research on the health care experiences of people living with Sickle Cell Disease (Lawrence et al. 2014). Beyond the pain, to live with Sickle Cell Disease is to live with a disease that many people don't understand and many doctors don't know how to properly treat. Sickle Cell Disease shows us how social constructions and social structure profoundly change the experience of living with a chronic disease.
The Social Construction of Sickle Cell Disease
If you've heard of Sickle Cell Disease, chances are you've also heard the myth that it is a, "black disease." Sickle Cell Disease affects people of all races. According to the World Health Organization, the Sickle Cell Trait is more common among people whose ancestors came from areas of the globe where malaria is common, such as West and Central African, the Mediterranean, and the Middle East. The Sickle Cell Trait provides some protection against malaria which partially explains why it is more common in these geographic regions (for more information about the controversies surrounding Sickle Cell Trait, see Lawrence and Shah 2014).
It is true that African Americans are affected at a higher rate than any other racial ethnic group. Nelson and Hackman (2013) report that 1 in 500 African Americans was affected by Sickle Cell Disease, but that rate dropped to 1 in 3000 for all other racial ethnic groups. All told, Sickle Cell Disease affects approximately 100,000 in the United States and millions more worldwide.
Despite the scientific evidence, many still believe that Sickle Cell Disease is a "black disease" and this misconception affects the quality of care individuals with Sickle Cell receive and the amount of money devoted to Sickle Cell research and advocacy (Smith et al. 2006). Or put in more sociological terms, the way we socially construct Sickle Cell Disease influences the social structures that surround it.
…
---
If Italian immigrants started at the bottom of the American social ladder and made it to the top, why can't Mexican immigrants do the same today? In this essay Nathan Palmer shows us how thinking sociologically and considering social structure can help us answer this question.
"Italian immigrants made a place for themselves in America and worked like hell to climb to the top of the economic ladder, why can't we ask the same for immigrants today?" On the face of it this is a reasonable question, but is this a fair comparison?
Mass Italian immigration to the United States started after the Civil War, peaked in the 1910s, and then tapered off. Like most immigrants, these Italian men, women, and children established their first foothold into the country at the bottom of the social ladder living in poor neighborhoods with inferior schools and inferior community resources. Italian immigrants faced open bigotry, discrimination, and even mass lynching's by the hands of their white counterparts. In the face of all this, Italian immigrants fought their way out of poverty and into the mainstream.
Since the 1960s the majority of immigrants to the United States have come from Central America, South America, and Asia[1]. This can be explained in part by the 1965 Immigration and Naturalization Act, which removed multiple barriers that systematically limited Latino and Asian immigration. However, recent Latino and Asian immigrants have struggled to escape poverty and integrate into the mainstream. For example, first and second generation Latino immigrants disproportionately live in poor neighborhoods, are exposed to high rates of crime, and drop out of high school (Haller, Portes, and Lynch 2011).
So what gives? Some would argue that recent Latino and Asian immigrants lack grit or are lazy. This is what is known as an individual explanation because it tries to explain a social problem (i.e. less comparative immigrant success) by relying on individual characteristics (i.e. today's immigrants are lazy). To be a sociologist is to consider how social structures affect individual lives.
…
---
Currently, the U.S. Supreme Court is considering a case that involves racial discrimination in housing under the Fair Housing Act. In this post, Stephanie Medley-Rath describes how whiteness offered her certain advantages when apartment hunting and asks whether racial discrimination needs to be intentional in order to have a negative impact on a community.
When I moved from a large Southern city to a mid-size Midwestern factory town (which I'll call Soybean City), I thought finding a place to rent would be a breeze. I was spoiled by the well-maintained rentals I could easily find in the large Southern city I was moving away from. They were affordable. They were clean. They came with amenities, such as tennis courts, swimming pools, and even a place to garden.
I had moved many times before, but this move was to be different. I would have my baby with me as I searched and I had only two days to find a place. Prior to coming to Soybean City, I called property managers to explain my needs, timeframe, and to schedule showings. On one of these calls, the landlord expressed relief that they were finally getting rid of their current tenant because he was black. Interesting. This landlord assumed from the phone call that I wasn't black. So I scratched that overtly racist landlord off my list and kept looking.
A few days later, I traveled to Soybean City. I was quickly frustrated. …
---
In this essay Nathan Palmer uses gentrification to illustrate how simple individual choices can lead to collective issues.
Gentrification is what happens when the middle-class starts buying houses in poor neighborhoods. The neighborhood quickly flips from being predominately poor to being predominating non-poor and like a snapped towel a wave of change pushes the long-time locals out of their homes (Glass 1964; Hackworth and Smith 2001; Smith 1996). Disproportionately the people losing their long-time homes are people of color and the ones getting their dream homes or turning a profit from flipping the neighborhood are white (Freeman 2006)[1].
The homes in poor neighborhoods are cheap and thus attractive for people with low paying careers (e.g. artists) and for real estate developers trying to buy up land in anticipation of a future booming housing market (Zukin 1989). Over time as middle-class individuals and families move into a historically poor neighborhood, their presence changes the housing market. The values of the properties begins to rise and more people want to move into the area. The shift in the housing market can be dramatic, especially if other social factors are present like tax breaks or financial incentives from the local government to encourage growth or a company moving it's operations into the area (and with it a lot of new jobs).
Rising property values generate desperately needed money for local services, but it also raises the cost of living in the area. Long-time locals watch their monthly rent climb or they are evicted after their landlord's sell their property for "redevelopment."
Highland Park, a neighborhood just outside downtown Los Angeles, is gentrifying at warp speed. "According to RealtyTrac, home values have soared about 200 percent from March 2000 to 2014." Marketplace, a national public radio program, sent their Wealth & Poverty team to Highland Park to report on the human experience of gentrification and in the piece below, the people who gentrified it.
…
---
The new prime time television comedy Jane The Virgin has been a big hit. The show has been described as funny and relatable. For sociologists, the show also helps bring to light stereotypes portrayed by Hollywood. The characters on Jane The Virgin break down many stereotypes, especially about Latino culture. In this post, Mediha Din explores these stereotypes.
Symbolic interaction is a theoretical perspective in sociology that focuses on labels. A symbolic interactionist sees society as the product of everyday interactions of individuals. This point of view emphasizes that:
We attach meaning and labels to everything
Reality is defined collectively
Individual beliefs and actions are affected by the community that surrounds them
Television and movies can have a strong influence on how we label groups, how we come to understand reality, and which stereotypes we believe are accurate. As sociologists, we describe a stereotype as a preconceived, simplistic idea about the members of a group. These ideas can hinder social interactions and lead to false assumptions about others.  Now let's turn our attention to one new television show, Jane The Virign, and the stereotypes it is trying to break.
Stereotype 1: Latina Women Work As Maids
The star of Jane The Virgin, Gina Rodriguez has said that she is excited to play a character that helps break common stereotypes of Latinos/Latinas that have been repeated in television over the years. She describes choosing not to take a role on another well-known television show with a Latino cast, "Devious Maids," because of the stereotypes it portrays. Rodriguez states: "Being a maid is fantastic; I have many family members who have fed their children in that role. But there are other stories that need to be told. The media is a venue and an avenue to educate and teach our next generation." According to Entertainment Tonight Online, Rodriquez is also proud that the show "introduces young viewers to a strong female lead who is a "size me" rather than a size zero."
Stereotype 2: Latinos Are Poor and Uneducated
Although Rodriguez's character is a waitress in the show, she is studying to become a teacher. The show also depicts many other Latino characters with varying educational backgrounds and socio-economic statuses. One of her love interests, Rafael, runs a successful hotel owned by his father. Rafael's sister is an OBGYN, and his step-mother is an attorney. Jane's father plays the role of a very successful Telenovela star….
---
Unless you have paid work lined up, soon-to-be graduates frequently ponder what they will do with all the newfound spare time on their hands, while simultaneously questioning how their university degree can be put into practice in the "real world." Lacking that tangible, reliable post-graduation roadmap, many recent university graduates (at least those who can afford it) are choosing to volunteer internationally, as a way to build their resumes, help others in need and add meaning to their lives. In this post, David Mayeda draws on the concept of neocolonialsim to critique this growing practice of international volunteerism.
In just over two weeks, 11 current and former University of Auckland students and I will embark on a two-week trip to Cambodia and Thailand to learn about the horrific practices of human trafficking and modern day slavery. Our guides on this trip will be personnel from an organization called, Destiny Rescue, a non-governmental organization (NGO) that specializes in stopping the trafficking of women and children who are coerced into sex work. During the past year, the students and I have been preparing for this trip, which has included all kinds of fundraising, as well as having honest conversations about our short trip's objectives.
For the most part, our trip will entail learning how broad structural factors (e.g., poverty, discriminatory citizenship laws, corruption in law enforcement and politics, gender and age discrimination, demand from high income countries) contribute to modern day slavery, guided through this learning process with people who deal with these factors "on the ground" as part of their daily work. However, there will be a few occasions where our tour group volunteers with young people who have escaped trafficking rings….
---
Heard the word "Ebola" lately? This rare and exotic disease has become a household term in America over the past few weeks. In this post, Ami Stearns suggests that our fear of Ebola might be better understood from studying our fear of outsiders.
I don't mean to sound like an alarmist, but something must be done about this disease NOW. Deaths due to the highly contagious virus are estimated at anywhere from a low of 3,000 to a high of 49,000 in America. Every economic resource at our disposal should be employed to warn our citizens of this imminent danger. Public service announcements should be tailored to alert everyone about the threat of contagion and the measures that can be taken to stop the terrifying progression of this often-fatal illness. This is no new disease either. If we aren't very careful, we could see a repeat of 1918-1919, where this epidemic caused the deaths of 20 to 40 million people worldwide. Every media outlet should be covering this potential disaster relentlessly!
What am I talking about? The flu, of course!
Oh, just the flu? Yawn.
The flu has wreaked havoc throughout history, killing more individuals during that 1918-1919 pandemic than were killed during World War I. And yet- it's the flu. Nothing to get excited about. How then can we explain the utter panic and grim forecasts dogging the Ebola virus?…
---