In this post, Mediha Din explores what a hate crime is, types of hate crimes, and sociological explanations of prejudice.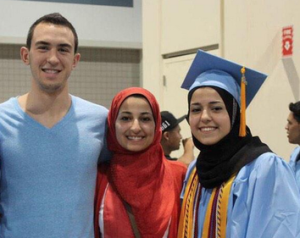 On the evening of February 10th, calls started coming in to police of shots fired in a neighborhood just off of the University of North Carolina in Chapel Hill. When police arrived, Craig Stephen Hicks was arrested for allegedly shooting and killing Deah Barakat, Yusor Mohammad, and Razan Mohammad Abu-Salha (all of whom were Muslim Americans). Police believe Hicks was angry about an on-going parking dispute. The victims' family members however, feel that the murders should be investigated as a hate crime. According to CNN, Craig Hicks has a history of parking disputes with neighbors. He also allegedly identified himself on Facebook as an atheist and ridiculed different religions, including Christianity and Islam.
From a sociological point of view, a hate crime is an unlawful act of violence motivated by prejudice or bias. It is a crime that in whole or in part is connected to hatred of a particular group. According to the FBI, a hate crime is "a traditional offense like murder, arson, or vandalism with an added element of bias." The bias can be based on race, ethnicity, religion, sexual orientation, disability, gender, or other factors.  If a crime is determined to be a hate crime, the punishment can be more severe. Mark Potok, a senior fellow at the Southern Poverty Law Center, explains that it can be difficult to prove a hate crime because there is often no evidence of a criminal's motive or state of mind. Potok also notes that not all states have laws protecting the same groups from hate crimes. Some states for example, do not prosecute a hate crime based on sexual orientation….
---
Currently, the U.S. Supreme Court is considering a case that involves racial discrimination in housing under the Fair Housing Act. In this post, Stephanie Medley-Rath describes how whiteness offered her certain advantages when apartment hunting and asks whether racial discrimination needs to be intentional in order to have a negative impact on a community.
When I moved from a large Southern city to a mid-size Midwestern factory town (which I'll call Soybean City), I thought finding a place to rent would be a breeze. I was spoiled by the well-maintained rentals I could easily find in the large Southern city I was moving away from. They were affordable. They were clean. They came with amenities, such as tennis courts, swimming pools, and even a place to garden.
I had moved many times before, but this move was to be different. I would have my baby with me as I searched and I had only two days to find a place. Prior to coming to Soybean City, I called property managers to explain my needs, timeframe, and to schedule showings. On one of these calls, the landlord expressed relief that they were finally getting rid of their current tenant because he was black. Interesting. This landlord assumed from the phone call that I wasn't black. So I scratched that overtly racist landlord off my list and kept looking.
A few days later, I traveled to Soybean City. I was quickly frustrated. …
---
In much of the western world, December and January mark months during the year we dub, the holiday season. For many of us, this entails purchasing gifts for loved ones, receiving gifts in return, celebrating time with loved ones, and making New Years resolutions. People who celebrate Christmas – whether that be for religious or non-religious purposes – frequently do so by ornamenting their homes with festive decorations. But where do all those decorations come from? In this post, David Mayeda uses Karl Marx's concept of alienation to analyze the production of Christmas ornaments, most of which are made in the Chinese city of Yiwu.
As most of our readers should know, Karl Marx is one of sociology's founding members. Marx viewed society through a lens of contentious production relations, in which the proletariat class (those who could only use their bodies as currency within the system) was exploited by the bourgeoisie (those who owned the means of production).
According to Marx, in their exploitation, the proletariat would become alienated from society in four different, but related and simultaneous ways: alienated from (1) the objects s/he produces, (2) the processes of production; (3) him/herself; and (4) the broader community of humankind. Now let's return to this post's example.
As The Guardian explains, over 60% of the world's Christmas decorations are made in roughly 600 factories, located in the Chinese city of Yiwu:
Christened "China's Christmas village", Yiwu is home to 600 factories that collectively churn out over 60% of all the world's Christmas decorations and accessories, from glowing fibre-optic trees to felt Santa hats. The "elves" that staff these factories are mainly migrant labourers, working 12 hours a day for a maximum of £200 to £300 [USD $312 to $468] a month – and it turns out they're not entirely sure what Christmas is.
…
---
In this essay Nathan Palmer uses gentrification to illustrate how simple individual choices can lead to collective issues.
Gentrification is what happens when the middle-class starts buying houses in poor neighborhoods. The neighborhood quickly flips from being predominately poor to being predominating non-poor and like a snapped towel a wave of change pushes the long-time locals out of their homes (Glass 1964; Hackworth and Smith 2001; Smith 1996). Disproportionately the people losing their long-time homes are people of color and the ones getting their dream homes or turning a profit from flipping the neighborhood are white (Freeman 2006)[1].
The homes in poor neighborhoods are cheap and thus attractive for people with low paying careers (e.g. artists) and for real estate developers trying to buy up land in anticipation of a future booming housing market (Zukin 1989). Over time as middle-class individuals and families move into a historically poor neighborhood, their presence changes the housing market. The values of the properties begins to rise and more people want to move into the area. The shift in the housing market can be dramatic, especially if other social factors are present like tax breaks or financial incentives from the local government to encourage growth or a company moving it's operations into the area (and with it a lot of new jobs).
Rising property values generate desperately needed money for local services, but it also raises the cost of living in the area. Long-time locals watch their monthly rent climb or they are evicted after their landlord's sell their property for "redevelopment."
Highland Park, a neighborhood just outside downtown Los Angeles, is gentrifying at warp speed. "According to RealtyTrac, home values have soared about 200 percent from March 2000 to 2014." Marketplace, a national public radio program, sent their Wealth & Poverty team to Highland Park to report on the human experience of gentrification and in the piece below, the people who gentrified it.
…
---
In this post, Sarah Michele Ford examines the ways in which American culture and values  make it challenging for sociology students to develop a "sociological perspective".
One of the greatest challenges for the introductory sociology student is learning to approach questions from a societal, not an individual, perspective. In fact, American culture has stacked the deck against the easy development of a sociological perspective. Most American students are indoctrinated into the dominant American values of individualism and hard work long before we are ever exposed to the field of sociology, and in many ways those values are antithetical to a sociological perspective.
We see this disconnect most often when we consider issues of social class inequality. American culture and values teach us that the best way to achieve (or maintain) middle- or upper-class status is to work hard (and maybe get a little lucky). This attitude is often framed in terms of the 19th century American author Horatio Alger, whose books told the stories of young people starting out poor but rising to middle- or upper-class status thanks to nothing but their own efforts and perseverance. (A number of Alger's books are available as free downloads at Project Gutenberg.)
The moral of these stories is that upward mobility is available to those who are willing to work hard. This line of thinking is also called the "myth of meritocracy", in which "[g]etting ahead is…based on individual merit, which is generally viewed as a combination of factors including innate abilities, working hard, having the right attitude, and having high moral character and integrity" (McNamee and Miller 2004). The myth of meritocracy, you may have noticed, gives all credit for social mobility (and all blame for failure to be upwardly mobile) to the individual. A sociologist, on the other hand, approaches the question of social class status from a societal perspective – that is, they look at what systemic factors play a role both in broader patterns of social class inequality as well as in any individual's social class status.
To better understand the differences between the individualistic and the societal explanations, let's look at two of the factors most often associated with social class status: education and income….
---
Unless you have paid work lined up, soon-to-be graduates frequently ponder what they will do with all the newfound spare time on their hands, while simultaneously questioning how their university degree can be put into practice in the "real world." Lacking that tangible, reliable post-graduation roadmap, many recent university graduates (at least those who can afford it) are choosing to volunteer internationally, as a way to build their resumes, help others in need and add meaning to their lives. In this post, David Mayeda draws on the concept of neocolonialsim to critique this growing practice of international volunteerism.
In just over two weeks, 11 current and former University of Auckland students and I will embark on a two-week trip to Cambodia and Thailand to learn about the horrific practices of human trafficking and modern day slavery. Our guides on this trip will be personnel from an organization called, Destiny Rescue, a non-governmental organization (NGO) that specializes in stopping the trafficking of women and children who are coerced into sex work. During the past year, the students and I have been preparing for this trip, which has included all kinds of fundraising, as well as having honest conversations about our short trip's objectives.
For the most part, our trip will entail learning how broad structural factors (e.g., poverty, discriminatory citizenship laws, corruption in law enforcement and politics, gender and age discrimination, demand from high income countries) contribute to modern day slavery, guided through this learning process with people who deal with these factors "on the ground" as part of their daily work. However, there will be a few occasions where our tour group volunteers with young people who have escaped trafficking rings….
---
What does it mean to "get ahead" economically? In this piece Nathan Palmer tries to answer this question by using the concepts of absolute and relative economic mobility.
"Congratulations!" Your boss says to you as he makes his way toward you. He snaps a envelope in front of you before continuing, "You my friend, just got a raise!" You don't even try to hide your sense of surprise. Snatching the envelope from his hands you tare into the letter like an animal. "A dollar an hour raise? Wow! Thank you so much," you tell him.
Elated, you head straight to your co-worker BFF to share the good news. Before you can even open your mouth, she rushes to you grabbing your shoulders, "Did you get a raise too?" You frantically nod yes and then a tandem jumping/squealing momentary freakout ensues. "I can't believe these tightwads gave us all a three dollar an hour raise," you hear her say. Emotional whiplash. She senses your change in demeanor. "Wait, you got a three dollar an hour raise like the rest of us, right?" White hot rage engulfs what was profound joy.
Economic Mobility and You
What does it mean to "get ahead" economically? As the scenario above illustrates, the answer to that question can be complicated. You earned a $1 an hour raise, so in one sense you got ahead, but if all of your co-workers got a $3 an hour raise, you also got left behind. What you've just experienced is the difference between absolute and relative economic mobility.
Economic mobility is a fancy way of describing how individuals increase or decrease their net worth. When an individual receives a raise or takes on a new higher paying job, this is an increase in absolute economic mobility. That is, absolute economic mobility measures an individual's financial gains or losses. Relative economic mobility does the same thing, but it also compares an individual's financial gains or losses to everyone else in that individual's community.
So you experienced upward absolute economic mobility (with your $1 raise) and downward relative economic mobility (relative to all of your coworkers who received a $3 pay hike).
…
---
What does the contents of your refrigerator say about your social class? In this post, Stephanie Medley-Rath explains how the contents of a fridge might indicate something about one's social class position. 
Scrolling through my Facebook feed the other day, I saw this image shared by a friend:
The intent of the person who created this image is to reinforce the image of the working person as going without while the unemployed person is literally getting fat off the government (as if there are no valid reasons why a person might be unemployed and in need of asssitance). The focus of today's post, is to disucss how this image illustrates the meaning of social class in America and enables to think about research methods.
If a person believes they are middle class and they really do have an empty fridge because they can not afford the food to fill it, they probably are not actually middle class. See, in America, everybody thinks they are middle class, though that perception is declining. No one should be blamed for their own misperception. I did a quick google image search for "middle class family on TV" and the families from The Middle, The Cosby Show, Modern Family, and Roseanne all showed up. I distinctly remember an episode of Roseanne where their power was cut after not paying their bill. I don't ever recall money problems on The Cosby Show. Can a family that can't pay their power bill and a family that can really be in the same social class grouping?…
---
In 1991, Philomena Essed wrote an important book titled Everyday Racism: An Interdisciplinary Theory. In her seminal text, Essed outlines how seemingly subtle and innocuous interactions between majority group members and women of color are muddled with racism. Essed termed these interactions, "everyday racism." Other scholars in social psychology have called everyday racist acts "microaggressions." In this post, David Mayeda discusses a recent commercial from Australia and his own research with Maori and Pacific students in Aotearoa New Zealand to illustrate the power of everyday racism and what he and his colleagues term, everyday colonialism.
Before I get into this post, check out this recent commercial that demonstrates what indigenous peoples in Australia (Aborigines and Torres Strait Islanders) must cope with on a regular, everyday basis.
Here at SociologyInFocus, a sociological topic we tend to neglect is colonialism.  First let's define imperialism – "the practice, the theory, and the attitudes of a dominating metropolitan centre ruling a distant territory; 'colonialism', which is almost always a consequence of imperialism, is the implanting of settlements on distant territory" (Ashcroft, Griffiths, & Tiffin, 2002, p. 46). In short, colonialism is imperialism put into action.
Today, old school colonialism is less prevalent. Instead what we tend to see are modern remnants of colonialism operating systemically through what scholars call "neo-colonialsim." In neo-colonial settings, previously colonized states have gained political independence from the colonial powers of yester-year. However, contemporary political, social and economic arrangements persist that keep indigenous peoples pushed to society's margins and in a state of perpetual structural disadvantage. Thus, colonialism lives on even if we don't realize it….
---
Did you watch the MTV Video Music Awards this year? Well if you missed it, Stephanie Medley-Rath brings you up to speed on Miley Cyrus' cure for youth homelessness, which she unveiled at the VMA.
Once again, Miley Cyrus steals the VMA spotlight by pulling a stunt of some sort. This year, she had 22-year-old homeless man, Jesse Helt to accept her award to raise awareness for homeless youth living in Los Angeles. He prompted viewers to visit Cyrus'facebook page so that they, too, could donate to My Friend's Place, an LA shelter serving homeless youth ane presumbly to educate themself on the issue.
I visited Cyrus' website to learn more about her campaign and noticed that her campaign message begins:
"Just a few miles from where I live in Los Angeles, there are young people living on the street who come to this city with big dreams just like all of us."
The implication is that these are young people who moved to L.A. to achieve their dreams rather than that they are from L.A. to begin with or are homeless for reasons that have little to do with seeking Hollywood-fame. The allure of Hollywood and celebrity is strong and Cyrus' words are an attempt to get people to empathize because they (i.e., homeless youth) are "just like all of us" (i.e., the non-homeless)….
---