It's easy to judge other cultures as being weird or gross, but doing so limits our ability to understand them. In this piece Nathan Palmer uses food preferences to illustrate how every culture has elements that shock or offend ethnocentric outsiders.
Growing up I thought everyone ate cinnamon rolls with their chili. Every fall my mom would make homemade cinnamon rolls and chili for our Sunday family dinners. Chili and cinnamon rolls were a regular item on our school hot lunch menu. Heck, chili and cinnamon rolls were so popular that a local chain of restaurants called Runza made it a meal deal. That's right, where I'm from chili and cinnamon rolls are so popular we had to assign them a number to speed up the ordering process.
I was 30 years old when I discovered that chili and cinnamon rolls wasn't a thing everywhere. I moved to Georgia and learned that people outside of the midwest thought this food pairing was, "disgusting!" However, I'd challenge that we can all agree that cinnamon rolls are delicious and therefore it's always a good time to eat one, but let's get back to the sociology. Taste and food preferences are elements of culture and my love for chili and cinnamon rolls and your disgust illustrates two important sociological concepts.
Ethnocentricity and Cultural Relativism
If you study culture long enough, you will come across something that shocks you. How you handle that feeling of shock will fall somewhere along a continuum with ethnocentricity on one end and cultural relativism on the other. A continuum describes the relationship between two extremes that gradually changes as you move from one end to the other. A dimmer light switch is a good example of a continuum. At the bottom the lights are all the way off, but as you slide the switch up the light gradually increases until you reach the top and maximum brightness.
At one end of our continuum is ethnocentricity. To be ethnocentric is to judge another culture using your cultural's values and beliefs. In affect, an ethnocentric person says, "there is one right way to live and it's the way the people of my culture live." On the opposite end of the continuum is cultural relativity. To be a cultural relativist is to judge another culture with that culture's values and not your own. In affect, a cultural relativist says, "there are many ways to live and my culture is just one of them."
…
---
Can a robot follow human-made norms? In this post, Stephanie Medley-Rath wonders how autonomous cars can navigate both driving mores and folkways. 
I loathe driving. If someone else volunteers to drive, I will almost always take them up on that offer. I am perpelexed by rich celebrities who cause car accidents, are charged with a DUI, or sometimes both(!). When I become a rich celebrity, my first major purchase will be to hire a driver so that I never have to drive myself again. Since I chose a career path not paved with gold, I will have to settle for saving my pennies until autonomous cars make their way into my price range.
The arrival of autonomous cars for regular people (i.e., not rich celebrities) seems to be fast-approaching and is coming up in more everyday conversations. Critics and talking heads are asking questions such as:
Is a driverless car safe?
How does an autonomous car know what to do?
As a sociologist, I am particularly interested in the second question: how does an autonomous car know what to do? These cars can be programmed with sensors to negotiate obstacles, with rules encoded in software to follow the law, and gps so the car knows where to go. But is this enough? Can autonomous cars be programmed to learn and adapt to all driving norms? Can all driving norms be written into a rule that a robot can follow?
This point was reiterated in a recent New York Times article, Google's Driverless Cars Run Into Problem: Cars With Drivers. Autonomous cars are programmed to follow the law or mores. Mores are norms that are thought to be so essential that they are typically written into law. Most drivers, however, do not strictly adhere to driving mores. Drivers do not come to complete stops at stop signs. They speed up to make it through a yellow light instead of slowing down to stop at the soon-to-be red light. They drive above the speed limit. People use hand or eye gestures to communicate with one another about who should go first through a four-way stop instead of following the right-of-way rules.
In addition to mores, there are a number of driving folkways-or norms not strictly enforced. Let's consider norms about merging lanes using two different scenarios.
Consider the case of drivers merging in an approaching construction zone. It seems reasonable to assume that construction zones could be programmed into the car's software so that it knows exactly where to merge and which lane to merge into without needing to observe other cars or read signs as a human driver needs. But what about unexpected merging? What if there is a car accident which requires people to merge unexpectedly? How would an autonomous car know when and how to merge in this situation?…
---
In December 2012, a young woman from New Delhi, India was sexually assaulted and murdered by six male perpetrators in such brutal fashion that the tragedy provoked nation-wide protests and drew extensive international media attention. The incident also inspired British filmmaker, Leslee Udwin, to produce a documentary titled India's Daughter (see trailer here). As part of the documentary, Udwin interviewed one of the convicted perpetrators, who declared the victim should not have resisted and was responsible for her own victimization because she violated feminine norms by dressing inappropriately and staying out late at night. In this post, David Mayeda uses Edward Said's system of Orientalism to analyze a discussion on India's Daughter that took place earlier this year.
TRIGGER WARNING: This article discusses sexual assault.
Edward Said is one of the most influential academicians in the Humanities and Social Sciences. His system of Orientalism has been fundamental in assisting scholars to rethink how we understand discourse directed towards people of color and conversely, those of European descent. As described in Said's seminal 1978 text, Orientalism entails constructing representations of non-European, colonized groups in negative ways across a range of mediums (military documents, popular media, academic study). Throughout this broad discourse, non-European cultures are framed as dangerous, backwards, inferior, simple, mystical and/or uncivilized, and lacking cultural diversity.
Coupled with this definition of "the other," comes the implicit understanding that those who are not Orientalized must be by comparison, uniformly safe, forward thinking, superior, advanced, scientific and/or civilized. To this end, Said argues that when western European powers define "others" in disparaging ways, they are simultaneously coming to understand themselves in opposing, positive terms.
Said contends further that an Orientalist system served as the foundation for British and French colonialism from late 17th century until World War II, and American neo-colonialism in the post-World War II period, though Said acknowledges Italy, Spain, Portugal, Russia and Germany relied on Orientalist practices as well.
It is in this regard that Orientalism is so important as a conceptual framework, because without first Orientalizing non-European cultures, colonizing powers could not justify taking possession of other countries and imposing economic and educational systems that benefitted colonizers at the expense of the colonized. Understanding themselves as higher cultures, western Europeans assumed the right to bring said lower cultures along, no matter how grizzly the means….
---
Most fight fans say it should have happened five years ago, when boxing's two greatest contemporary icons stood at the height of their athleticism. But nobody is complaining that Manny "Pac-Man" Pacquiao and Floyd "Money" Mayweather have slipped past punches over contract disputes and will finally trade blows in the ring on 2 May 2015. This latest rendition of boxing's history making prize-fight indeed breaks precedence, if for no other reason, for its financial provisions. The two pugilists will share an estimated $200 million in prize money, with Mayweather banking $120 million and Pacquiao $80 million, a 60%-40% split, as ticket sales for the contest skyrocket in value. In this post, David Mayeda, explains how the Mayweather-Pacquiao fight is far more than a major boxing competition, also representing a colossal clash in cultural values.
As much as any other sport, boxing has shared a dynamic relationship with American cultural politics. Throughout the twentieth century, African American heavyweight champions, such as Jack Johnson, Joe Louis, Joe Frasier, Muhammad Ali, and George Foreman, symbolized diverging viewpoints tied to civil rights, patriotism, and imperialism.
At present time, however, boxing's landscape has become highly depoliticized, stuck in a period of commercialized globalization where today's boxing superstars are constrained by business interests that limit political expression. Despite these corporate restraints, the impending Mayweather-Pacquiao competition represents a clash in cultural values, as notions of intense American individualism square off against collectivism and humility.
"Money" Mayweather and American Individualism
No other athlete represents American individualism and capitalistic greed more ardently than "Money" Mayweather. The highest paid professional athlete in the world, Mayweather regularly and notoriously flaunts his wealth and extravagant lifestyle. Boasting that he is untouchable across an array of levels, Mayweather recently stated, "Is it about the money? Absolutely. Is it about the fame? Absolutely. It's everything wrapped into one. I want to be the best. Not just the best fighter but I want to be the best athlete, period. When I leave, I will be known as 'TBE' and that's the best ever."…
---
Uber is a new type of transportation that has recently become a global phenomenon. The idea is simple and efficient, but how did Uber convince millions of people that it is perfectly acceptable to take a ride with a stranger? In this post, Ami Stearns uses the concept of Georg Simmel's "Stranger" to make the case for the normalization of Uber's rideshare service.
I tapped a few icons on my phone, stepped out of the hotel lobby doors, and hopped in the car of a total stranger. While I was in Florida for a conference in March, I rode with strangers three or four times. Complete strangers!
Every experience I had with these drivers was efficient, friendly, and very cost-effective. I did not even have to carry cash with me or figure out tips. I did not have to feel awkward about bumming a ride to the airport. How? Uber!  Uber is a rideshare concept developed in San Francisco in 2009. "Hailing" a ride is done by clicking on a smartphone app (or do it the old fashioned way, on your laptop) that locates you instantly, shows you how many drivers are within range, asks where you're going, and lines you up with a ride within minutes. Here's where it gets interesting: the drivers are regular people using their own vehicles- no bright orange taxicabs with obvious logos. It is, essentially, getting in the car with a stranger….
---
Just over a year ago, a group of African American students at Harvard University initiated the "I, Too, Am Harvard" campaign, exposing the racialized microaggressions black students at Harvard face. According to Columbia University Professor Derald Sue and colleagues, microaggressions are a contemporary form of racism, which can be defined as "brief, everyday exchanges that send denigrating messages to people of color because they belong to a racial minority group" (p. 273). In this post, David Mayeda overviews the "I, Too, Am Auckland" movement, where Māori and ethnically diverse Pacific students describe the lexicon of microaggressions they face, how they and their peers cope with racially disparaging actions, and how we as a society can overcome racial inequalities.
For the last seven months, six University of Auckland students and I worked diligently on a projected titled, "I, Too, Am Auckland." Building off the widely successful "I, Too, Am Harvard" project and the university campaigns that followed at Oxford, Cambridge, and Sydney, our project speaks to the seemingly subtle, covert but still very damaging racism directed towards Māori and Pacific university students in Aotearoa New Zealand.
To provide some context, in New Zealand, Māori are the indigenous population who have undergone waves of colonialism and face marginalization in society that is similar to indigenous peoples in the United States, Canada and Australia. Pacific peoples have ancestries tied to Samoa, American Samoa, Tonga, the Cook Islands, Fiji, Tokelau, Vanuatu, Hawai'i, French Polynesia/Tahiti, and many other Pacific islands/nations. Most Pacific nations also underwent European colonization, and notably in New Zealand, Pacific people were recruited to work in factories during the 1950s, 60s and 70s, valued predominantly for their unskilled labor….
---
In this post, Mediha Din explores what a hate crime is, types of hate crimes, and sociological explanations of prejudice.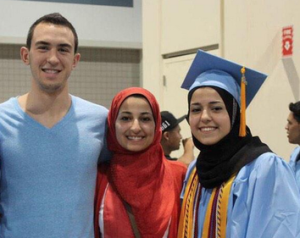 On the evening of February 10th, calls started coming in to police of shots fired in a neighborhood just off of the University of North Carolina in Chapel Hill. When police arrived, Craig Stephen Hicks was arrested for allegedly shooting and killing Deah Barakat, Yusor Mohammad, and Razan Mohammad Abu-Salha (all of whom were Muslim Americans). Police believe Hicks was angry about an on-going parking dispute. The victims' family members however, feel that the murders should be investigated as a hate crime. According to CNN, Craig Hicks has a history of parking disputes with neighbors. He also allegedly identified himself on Facebook as an atheist and ridiculed different religions, including Christianity and Islam.
From a sociological point of view, a hate crime is an unlawful act of violence motivated by prejudice or bias. It is a crime that in whole or in part is connected to hatred of a particular group. According to the FBI, a hate crime is "a traditional offense like murder, arson, or vandalism with an added element of bias." The bias can be based on race, ethnicity, religion, sexual orientation, disability, gender, or other factors.  If a crime is determined to be a hate crime, the punishment can be more severe. Mark Potok, a senior fellow at the Southern Poverty Law Center, explains that it can be difficult to prove a hate crime because there is often no evidence of a criminal's motive or state of mind. Potok also notes that not all states have laws protecting the same groups from hate crimes. Some states for example, do not prosecute a hate crime based on sexual orientation….
---
No nipple clamps – no problem. In this post, Bridget Welch reviews THE MOVIE 50 Shades of Grey and is very surprised to find it a lot less offensive (and sexy) than she expected. SPOILER ALERT!
"Well, I'm flummoxed."
Those are the words I spoke as the credits started to roll after 50 Shades was FINALLY and thankfully over.
To say that my reaction to the flick was a tad different from what I expected is like saying the sex in the film is BDSM — an astronomically huge misrepresentation. The film was neither misogynistic (hatred or prejudice against women) nor was the sex anything kinkier than what most couples try in a luke-warm attempt to spice things up. Instead, one of the core messages of the film is the message of consent.[1] (I'm not going to spend the time on the plot — of what little existed. If you aren't familiar, read here).
Before talking about how the movie highlights the importance of consent, it is important to know what consent is.
A few key points (for our purposes here) made in this video is that consent needs to be given explicitly prior to a sexual relationship emerging. This is contrary to our sexual scripts which are ideas largely shared in our society about how sex should occur. The term "script" here is used on purpose. We live social life as a play following scripts to perform behavior and make sense of others' behaviors. Our common (heterosexual) script reads something like this:…
---
These days, bacon is everywhere you look. The current darling of the food world, this once-unheralded third leg of the eggs and toast breakfast plate has achieved unprecedented levels of superstardom. In this post, Ami Stearns examines the bacon craze through a sociological lens.

If you thought this post was going to be about porn, well, you're only partly correct. (In fact, you can view a bacon porn slideshow here that IS safe for work. You're welcome.). Bacon is totally hip right now, with everything from fan clubs, twitter accounts, and its very own holiday. Not that bacon doesn't deserve a fair share of the nation's attention, but is our bacon need so desperate that we need a pizza wrapped with 3 1/2 feet of bacon? How did this once-humble breakfast item become a Kardashian of the food world?
It could be that bacon is delicious and that's the end of the story. But many foods are delicious: chocolate, steak, cotton candy…what is it about bacon that is suddenly so in-demand? There are probably more than fifty different sociological lenses we can use to interpret bacon's current popularity, but I'll focus on three: gender theory, symbolic interactionism, and Marxism….
---
Have you ever done something "because it's tradition" without really realizing where the tradition comes from? Every culture practices traditions passed down over generations. But few of us examine deeply the sometimes disturbing practices and historical meanings that some traditions reflect.  In this post, Sarah Nell examines the common practice of women changing their names upon marriage.
I got married when I was 25, which 13 years later seems awfully young. Although I had "girl power" feminist leanings at the time, and rejected completely a June Cleaver future, I was madly in love and did not yet consider the feminist implications of my choices. Specifically, I did not see the point of keeping my own last name. I considered it, but at that time in my life taking my future husband's last name seemed like the right thing to do. It's what most women do. And more people expected me to change my name than not. In fact, some people would have been dismayed if I didn't  change it.
The practice of women taking their husband's last name is an old tradition that goes back to a time[1] when women were viewed as the property of men, just like the cows and chickens given as dowry. Marriage, then, was not an arrangement based on mutual love, rather it was a business transaction. In this context, women were commodities traded or exchanged for debts.
Over the years, the meaning of the name changing practice has changed. That is, my father and husband certainly did not view me as property to be transferred from one man to the other (though the rituals we performed suggest otherwise). Today,  the practice of women taking their husband's name is a symbolic gesture that reflects a couple's desire to share a common name for their family unit. That seemed reasonable to me. So I did it. I took his name.
It didn't take long for me to regret my choice.
I realized I'd given into a historically and profoundly patriarchal tradition.  Like many others, I believed in the idea that marriage was "until death do us part." As it turns out, my marriage did not last until death. Here I am, no longer married, but still very much alive. And I have a name that isn't mine.
Why must I be a maiden OR a Mrs.? Must my name depend on my relationship to a man?
Upon the decision to divorce, I considered keeping my married name, or returning to my maiden name. But the more I thought about it, the more questions I had. Why must I be a maiden OR a Mrs.?  Must my name depend on my relationship to a man? Why do we assume that the deep attachment and pride men feel about their names and identities are not also felt by women? What does it say about women's contributions to the family that only men can "carry on the family name"? Why do we expect women to abandon their names and their identities in ways we would never expect men? How have we internalized this practice, and why do we perpetuate it?
…
---