Do you have to learn how to get high or is it pretty self-explanatory? Would it surprise you if you could learn something about sociology by studying stoners? In this post Nathan Palmer discusses the sociologist Howard Becker's work on the social process of becoming a marijuana user.
Why do people like alcohol? I mean if you stop and think about it, alcohol is just the worst. Almost every one who drinks has experienced the pain of a mean morning hangover (at least once). Also, the experience of being drunk… why is that enjoyable? When drunk you slur your words, it's hard to think straight, you're liable to say or do something that will offend the people around you, and you can't legally drive a car. Why does any of that sound like a good way to spend a Friday night?
To a sociologist, the reason people drink alcohol is that they have been socially taught to. That is, we like alcohol because we've been taught to overlook the negative side effects or we have redefined them as positive. If that's confusing, don't worry. Let's talk about another drug people abuse (marijuana) and how the sociologist Howard Becker argues we socially construct getting high and being a stoner.
Becoming a Marijuana User
In 1953 Becker set out to answer what appears to be a simple question: how does a person become a marijuana user[1]. After interviewing fifty marijuana users Becker (1953: 235) concluded that
"An individual will be able to use marihuana for pleasure only when he (1) learns to smoke it in a way that will produce real effects; (2) learns to recognize the effects and connect them with drug use; and (3) learns to enjoy the sensations he perceives. This proposition based on an analysis of fifty interviews with marihuana users, calls into question theories which ascribe behavior to antecedent predispositions and suggests the utility of explaining behavior in terms of the emergence of motives and dispositions in the course of experience."
…
---
This is part one in a two part series. In this first post, Bridget Welch explains prototypes, schema, and framing and how these concepts help us understand the characterization of black and Latino boys as criminals. In the second post, she will help us relate these concepts to understand the charges of racism made in recent Stand Your Ground cases.
Close your eyes and imagine a dog. What does your dog look like? The dog you image is your "doggiest dog." It's the doggiest dog to ever dog. It's your dog prototype. All other dogs are measured (and found wanting) in comparison to your dog prototype. It includes the list of attributes that you have about a dog (e.g. fur, paws, tail, wet nose) but also includes something more. The dog "essence." What it does then is allow you to look at other things, like this thing:
and decide, "Is that a dog?"
And, if despite your better judgment you decide "Yes, that thing is a dog" what then happens is you activate your dog schema. While a prototype is your exemplar of a category, a schema is all your ideas about that category. Think of it as a file cabinet in your head with a drawer marked "dog." When you open that drawer, all the information you have about dogs is right there. Information about what they eat, how they behave, your ideas about their loyalty, the Taco Bell chihuahua, the Dog Whisperer — everything that you've gathered about dogs from hearing about them, reading about them, watching TV or films, and of course interacting with them, all right there. And you use that information to decide how to interact, treat, and behave toward the new thing you've labeled "dog."
We also have prototypes with related schematic content for things like "criminals" and "drug users." If you closed your eyes and pictured a "criminal" what would that person look like? Would that person be a he? Would he be young or old? Would he be black? Research indicates that for most Americans, our prototypes for criminals are young black (and to lesser extent but still highly problematic, Hispanic) males. Indeed, as Kelly Welch (no relation) writes in her article about black criminal stereotypes:"stereotyping of Blacks as criminals is so pervasive throughout society that "criminal predator" is used as a euphemism for "young Black male."…
---
In part two of this series, Sarah Michele Ford continues to look at the ways in which social control plays out in Suzanne Collins' The Hunger Games trilogy, focusing on the second half of Catching Fire and the third book in the series, Mockingjay. The second half of the trilogy allows us to compare the types of social control that are used in multiple socio-political contexts. As with the previous post, SPOILER ALERT!
At the end of our previous examination of social control in Suzanne Collins' The Hunger Games trilogy , Katniss Everdeen had just learned that she would be going back into the arena for the third "quarter quell" – the seventy-fifth anniversary of the Hunger Games. As in the previous year, she is joined in the arena by Peeta, but this time the stakes are higher. Katniss knows that she's the symbol of the resistance and knows that her performance during the Victory Tour has failed to quell that resistance. She knows that President Snow feels more than ever that the Games are a necessary display of social control and that he also will be planning to eliminate her as a symbol of the rebellion, hopefully quashing it altogether.
As with the previous Games, though, things don't quite go according to Snow's plan. As it turns out, the new Head Gamemaker, Plutarch Heavensbee, has been involved in the resistance movement and the Games end when Katniss and several of the other tributes are broken out of the arena. After the breakout, they are whisked away to District 13, which the Capitol had supposedly destroyed during the previous rebellion. It had long been rumored, though, that the population of Thirteen had simply been driven underground, which turns out to be true.
Upon learning that she has been rescued by Thirteen, Katniss asks why they rescued her but not all of the other tributes (including Peeta). Heavensbee tells her, "We had to save you because you're the mockingjay, Katniss… While you live, the revolution lives" (Catching Fire, p. 386). Shortly after her arrival in Thirteen, Katniss insists on visiting her old home in Twelve, which the Capitol had bombed into oblivion immediately after the escape from the arena. While there, she discovers what she knows to be a message from President Snow – a white rose in her bedroom in Victor's Village. He knows she's alive; knows that she's in District Thirteen, and continues to threaten her even once she's out of his direct control….
---
Are all homicides the same? In this post, Stephanie Medley-Rath explains why it is important to understand how variables are operationalized in order to understand how not all homicides are the same when it comes to reporting them. 
One step in the research process is operationalizing your variables. Operationalization means defining what your variables actual mean and what they are actually measuring.
While operationalization is critical to a research project, a consumer of research also needs to understand its importance. How variables are defined limits how research results can be interpreted.
Let's look a bit closer at homicide rates. Some cities are reporting an increase in homicide rates, while other cities are reporting a decline in the 2013 homicide rate for their city.
Alex Tabarrock reports that there is a 25% difference between the lowest and highest reported homicide rates for 2010. He points out that the statistics come from three different reporting agencies (FBI, Bureau of Justice Statistics, and CDC) and that each of these agencies defines (i.e., operationalizes) homicide differently.
While Tabarrock gives a brief explanation of the difference in definitions, I was curious as to how exactly homicide is defined by each agency.
I began my quest by going to the Center for Disease Control and Prevention's (CDC) website and typing in the word "homicide" into the search bar. I decided the results "FASTSTATS" would be the best place to start. As I scrolled down the page, there it was, the link I needed: "Injury Definitions and Methods." But alas, there still was not a clear explanation of how homicide is operationalized by the CDC. The best I can gather is that for the CDC, homicide exists within the category of death from injuries. Death from injuries includes "accidents (unintentional injuries), intentional self-harm (suicide), and assault (homicide)" (here, p. 166)….
---
Geico Insurance has come out with a number of "Happier Than…" commercials which compare very happy characters, like the Hump Day Camel on Wednesdays, with the happiness of changing to Geico Insurance. In a recent advertisement, the happy character is none other than the Pillsbury Doughboy. In this post, Ami Stearns argues that the Pillsbury Doughboy's happiness at being poked and prodded by TSA serves to normalize the invasive practice of being touched during the airport experience.
His high-pitched giggle is instantly recognizable. His plump body calls to mind warm, fluffy biscuits just out of the oven. Pillsbury's famous mascot, the Pillsbury Doughboy, represents the comforting family kitchen. We're so used to the Doughboy that he's become as much of the American cultural landscape as a Norman Rockwell painting. The sound of his giggle makes us salivate for crescent rolls like Pavlov's dog. The Doughboy's successful association with the typical family home environment has normalized, for example, the purchase of packaged, mass-produced, ready-to-bake biscuits, cookies, and pie crusts.
Normalizing is a societal process where certain desired behaviors are made to appear very normal or so everyday that they come to be taken for granted. Who desires certain behaviors? Well, everyone from governments to educational systems to the military to corporations. Television commercials play a huge role in normalizing behaviors, for example, buying a new car before the old one breaks down, shampooing your hair daily, feeding your entire family through a drive-through window, and drinking diet soda.
The Pillsbury Doughboy is quite familiar to American audiences. In fact, the Doughboy as a corporate mascot is second only in popularity to those little talking M&M's. The Doughboy been seen everywhere from the Macy's Thanksgiving Day Parade to the children's toy aisle, in addition to starring in hundreds of Pillsbury commercials. Lately, though, the pudgy mascot has been seen backing a different type of product: insurance. Geico Insurance's series of popular "Happier than…" ads recently featured the Doughboy giggling uncontrollably while an airport TSA agent pokes him as he's going through security.
An entire post could be written about the novel concept of cross-advertising auto insurance with unbaked cookies, but let's concentrate on the details of the commercial itself while thinking about the normalization of monitoring and surveillance in our society. In the commercial, a TSA agent repeatedly tries to poke the Pillsbury Doughboy while the mascot's giggling increasingly gets out of control. The announcers ask, "How happy are people who switch to Geico?" and volunteer the answer, "Happier than the Pillsbury Doughboy on his way to a baking convention."…
---
A 16 year old boy in Texas gets drunk, drives his truck 70 mph on a 40 mph road and kills four people who were stopped on the side of road fixing a flat tire, but the boy doesn't go to prison. In this post Nathan Palmer uses the concept of the inequality of life chances to try to understand this mind-boggling sentence.
What I remember about the fights I saw in junior high school was the standing around waiting for something to happen. Word would spread through the school that so-and-so was going to fight so-and-so right after school ended. I'm not proud of it, but every time I heard about a fight, I'd rush over to the spot it was supposed to happen as soon as the last bell rang; I just couldn't keep myself from seeing it, like when you drive by a car accident. However most times the fight never happened. We'd stand around and listen to two scared boys puff their chests out and do their best tough guy impersonation.
The only fight I can vividly remember seeing was brutal. The two boys beat each other mercilessly and I remember feeling I'd done something wrong by watching and feeling sure someone was going to get in big trouble for the fight.
I hadn't even got into the school the next morning when I heard the news. One of the boys had been suspended and he might be expelled at a hearing of sorts later that day. I was floored. First at the thought that someone I knew might get expelled and second because why wasn't the other boy also suspended?
…
---
Remember the Steubenville travesty that occurred in mid-2012 but didn't start making headlines until months later? If you don't recall, the case involved teenage males sexually assaulting a heavily intoxicated younger female, bragging of their exploits online, as various parties looked the other way or covered up the males' actions. In the aftermath, certain mainstream media outlets were more sympathetic to the adjudicated males than to the female survivor. In this post, David Mayeda covers a strikingly similar case that has made headlines in New Zealand.
TRIGGER WARNING: This article discusses sexual assault.
A while ago I began writing a few SIF articles focused on "preventing violence against women." I discussed the Steubenville case, as well as the tragedy in New Delhi, India and in different form, examples from Pakistan. In retrospect, I should have recalled how Jackson Katz frames the issue by naming it "men's violence against women," highlighting men's responsibility in gendered violence.
This past month, I was reminded how correct Katz is when 3News in New Zealand exposed a group of older teenage males from West Auckland called the Roast Busters. As reported by The New Zealand Herald, "The Roast Busters caused outrage by bragging on their Facebook page about getting underage girls drunk and having sex with them…. The Roast Busters Facebook page and the profile pages of some members – who are said to have targeted girls as young as 13 – have been taken down since news of their activities broke."
Since this story broke, members of New Zealand's mainstream and alternative media have provided excellent commentary critiquing the Roast Busters and a broader rape culture in New Zealand that "systematically trivializes, normalizes, or endorses sexual assault."
Unfortunately, following the Roast Busters' exposure, a number of other disturbing events emerged that exemplify how rape culture operates in a patriarchal society, where men's privilege is embedded across society's institutions. Take for instance the male-dominated institution of law enforcement. Police initially stated they could not take action on the Roast Busters because no victim had formally come forward to complain.
However, the public quickly learned that "police had received a complaint from a 13-year-old girl as far back as 2011." Demonstrating how police blamed the very young victim instead of taking action against accused male perpetrators, it was later revealed, "The girl…told 3News she was upset by the line of questioning used when she was interviewed by police in 2011, including about what she was wearing" (see also here)….
---
AMC recently aired its final episode of Breaking Bad. With the series now completed, one might wonder how so many viewers could maintain loyalty to protagonist, "Water White," the dorky low-level crystal methamphetamine producer, turned vicious kingpin, who over five seasons inflicted unbridled violence on a slew of characters. Even Breaking Bad creator Vince Gilligan expressed a sociologically-driven curiosity with Walt's ability to emit public sympathy: "I have kind of lost sympathy for Walt along the way…I find it interesting, this sociological phenomenon, that people still root for Walt. Perhaps it says something about the nature of fiction, that viewers have to identify on some level with the protagonist of the show, or maybe he's just interesting because he is good at what he does." In this post, David Mayeda breaks down Breaking Bad's success, accounting for reclaimed masculinity in a failed political economy.
For the few of you out there unfamiliar with AMC's fictional drama, Breaking Bad tells the story of fumbling high school chemistry teacher with a PhD – Walter White (played by Bryan Cranston) – who "breaks bad" by ditching his conventional teaching gig to produce and eventually traffic crystal methamphetamine across New Mexico and the greater American Southwest. Key in the series' storyline is that Walt is a conventional family man, deeply in love with his pregnant wife, Skyler, and teenage son, Walt Jr., who suffers from cerebral palsy. That's a lot of financial responsibility for any high school teacher. To make matters seemingly impossible, Walt is diagnosed with terminal lung cancer. Hence Walt works in tandem with former pupil, Jesse Pinkman, to start cooking meth in hopes of making enough money for his family's long-term future.
Over the course of five seasons, Walter White transforms from a dorky, emasculated high school chemistry teacher who cannot provide for his family, to badass drug kingpin, steeped in money and power. With nothing to lose, Walt's ascent stems from an incessantly growing cunningness, elite intellectual acumen, and at times, departure from his once conventional moral compass. Viewers have watched Walt kill rival drug dealers, associates and kingpins, stand idly by while Jesse's love interest dies; we even know Walt poisoned a young child. Despite these departures from conventional morality, a substantial portion of Breaking Bad's viewers still sympathize with, even cheer for Walt. How can this be?
Sociologically speaking, the answer lies in Walt's ability to establish a kind of hegemonic masculinity under dreadful circumstances that on a different level, also impacted so many Breaking Bad fans….
---
Sociologists focus on our world today. Recently we have seen tragic news of shootings at a mall in Nairobi, a park in Chicago, and a Navy Yard in Washington D.C., all within the week. This devastating loss of innocent lives has impacted families, friends, and community members, and left many questions in our minds. As sociologists, we use three theoretical perspectives (think of them as three pairs of glasses with different lenses) to analyze society. One method that can be used for analyzing mass shootings such as the heartbreaking Navy Yard shooting in Washington D.C., is symbolic interaction. In this post, Bridget Welch describes symbolic interaction and how this sociological perspective can be used.
Last week Mediha Din analyzed mass shootings from a structural functionalist position. Today we will look at the same phenomenon, but from a different set of lenses — symbolic interaction (SI).
What is the meaning of light? Of fly? Breaking up? It all depends on the meaning that we have learned through interacting with others that helps us think through the possible menu of interpretations and choose our reactions. Because of our ability to interpret, we are capable of understanding the social world in a wide variety of creative and unique ways, and still capable of understanding each other. From this basic formula, we get three core principles of SI that I will explain using the example of mass shootings and the media.
Core Principle 1. People act towards things in terms of the meanings that they hold about those things.
When you think about a mass shooting, what do you think of? Sandy Hook Elementary school? The Aurora shooting at the movie theater showing Batman? Perhaps the mass shooting instance at the Sikh Temple in Wisconsin?
We tend to think of the spectacular, or awesome (not that it's good, but that it is awe inspiring); large scale shootings that grab national attention and keep it in a vice grip….
---
Sociologists focus on our world today. Today we have seen tragic news of shootings at a mall in Nairobi, a park in Chicago, and a Navy Yard in Washington D.C., all within the week. This devastating loss of innocent lives has impacted families, friends, and community members, and left many questions in our minds. As sociologists, we use three theoretical perspectives (think of them as three pairs of glasses with different lenses) to analyze society. One method that can be used for analyzing mass shootings such as the heartbreaking Navy Yard shooting in Washington D.C., is structural functionalism. In this post, Mediha Din describes structural functionalism and how this sociological perspective can be used.
How can we analyze society from the point of view of structural functionalism? Think of the morning cup of joe.
Do you drink coffee? Does it help you wake up? Focus? Give you an energy boost? These are some functions (purposes) of caffeine. Or do you avoid it because of the energy crash, acidity, or jitteriness it causes you? These are some dysfunctions of caffeine.
Looking at society from a functionalist point of view includes examining how something is functional (useful) and dysfunctional (not useful).
The structural functionalist point of view sees society as a complex system whose parts work together to promote stability. The human body is often used as an analogy for structural functionalism. Many different parts (heart, liver, brain, lungs) work together in order for the body to work.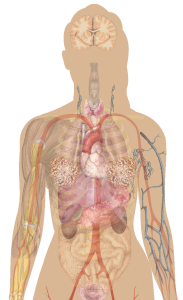 Functionalism is also focused on maintaining harmony in society, just as your body works to maintain harmony (if you are cold, your body shivers to warm you up, if you are hot, your body produces sweat to cool you down).
When we look at terrible occurrences such as the mass shooting in D.C., we will immediately see many dysfunctions caused by this horrendous crime. Families have lost a loved one, provider, and support mechanism. Our Navy has lost valuable members of their workforce, and many surviving members may suffer from depression or post-traumatic stress disorder. The members of society as a whole feel disheartened, fearful, and confused by these horrific acts of violence. Looking at the negative consequences of a behavior is part of structural functionalism.
Functionalism also analyzes how criminal acts can provide some functions in society. (This does not mean justifying atrocious acts of violence against innocent people in any way). Crime can have a role in society, and some positive outcomes can be seen coming out of extremely negative circumstances.
How can crime be functional for society? A few ways:…
---