The well-known actress recently published a New York Times best-seller that may make you see her as one. The Body Book: The Law of Hunger, the Science of Strength, and Other Ways to Love Your Amazing Body might not sound like the title of a sociological text, however the connections Diaz makes between societal influences and the health of Americans have the sociological imagination written all over them.  In this post, Mediha Din explores the use of the sociological imagination to understand health, with the help of Cameron Diaz's recent publication.
It's not too surprising that a book written by a Hollywood star on health and nutrition may find itself as number three on the New York Times Best Seller list. Many Americans are eager to learn the "secrets of the stars" when it comes to weight loss or health. However, Diaz's book is not a diet guide or how-to on weight loss. It is an in-depth explanation of human health that makes strong connections between trends in our society and the health of our citizens.
The sociological imagination is a key concept in sociology (this post by Kimberly Kiesewetter describes the sociological imagination in detail.) Using your sociological imagination means being able to see the connections between the larger society and individual actions, events, or beliefs. Cameron Diaz's book is filled with these connections. She discusses changes in American society based on technology. She cites scientific health studies examining how we were once a highly physically active society, but are now a "society that loves to sit". Most American workers before the 1960's had jobs involving manual labor such as farming and building. Most house work also required physical exertion such as washing dishes by hand or vacuuming with a heavy Hoover. Cooking required long bouts of standing to chop vegetables and watch the pots on the stove.
Today, modern conveniences have dramatically decreased our physical exertion. Many jobs require sitting at a desk and working on the computer for 8 hours a day or more. Microwaves, dishwashers, washing machines, frozen meals, and pre-chopped veggies have dramatically changed housework.  Affordable cars and televisions have also contributed to more and more sitting. The implications of less activity and more sitting on our health are devastating. Long-term sitting is associated with higher risks of heart disease, high-blood pressure, and diabetes, according to a study in the Journal of Medicine & Science in Sports & Exercise. …
---
Most of us recognize that we can't possibly know 1,200 people well enough to truly be friends with that many people, yet we all know someone (and maybe even are that person), who seems to friend everyone on Facebook. In this post, Stephanie Medley-Rath explains how having numerous social network connections might be beneficial. 

"Can you believe she has 1,200 Facebook friends?"
"I know. How can she possibly know that many people?"
"I only friend people I know in real life. I have no time to keep up with people I barely talked to in high school or only met briefly at a party."
"I'm with you. I'm perfectly content with my 163 Facebook friends. I only want to be Facebook friends with people I know well in real life."
Have you ever had a conversation like the one above? Are you someone who seems to friend everyone on Facebook or are you more selective with your Facebook friend requests?
It is usually pretty easy to understand the motives of a person who is fairly selective about who they accept friend requests from on Facebook. It is often more difficult to understand the person who appears to friend everyone.
A sociologist is interested in both types of Facebook users. In this post, I will explain how having hundreds or even thousands of Facebook friends might be advantageous.
The main reason why a person tends to be critical of the Facebook user with numerous friends is that this Facebook user is elevating friend status to relatively weak social ties rather than reserving the word friend for people they really do consider to be friend. Facebook is using the word friend to really mean tie. These ties may be to people the person does not know very well. They might have never even met the person outside of the Internet….
---
In part two of this series, Sarah Michele Ford continues to look at the ways in which social control plays out in Suzanne Collins' The Hunger Games trilogy, focusing on the second half of Catching Fire and the third book in the series, Mockingjay. The second half of the trilogy allows us to compare the types of social control that are used in multiple socio-political contexts. As with the previous post, SPOILER ALERT!
At the end of our previous examination of social control in Suzanne Collins' The Hunger Games trilogy , Katniss Everdeen had just learned that she would be going back into the arena for the third "quarter quell" – the seventy-fifth anniversary of the Hunger Games. As in the previous year, she is joined in the arena by Peeta, but this time the stakes are higher. Katniss knows that she's the symbol of the resistance and knows that her performance during the Victory Tour has failed to quell that resistance. She knows that President Snow feels more than ever that the Games are a necessary display of social control and that he also will be planning to eliminate her as a symbol of the rebellion, hopefully quashing it altogether.
As with the previous Games, though, things don't quite go according to Snow's plan. As it turns out, the new Head Gamemaker, Plutarch Heavensbee, has been involved in the resistance movement and the Games end when Katniss and several of the other tributes are broken out of the arena. After the breakout, they are whisked away to District 13, which the Capitol had supposedly destroyed during the previous rebellion. It had long been rumored, though, that the population of Thirteen had simply been driven underground, which turns out to be true.
Upon learning that she has been rescued by Thirteen, Katniss asks why they rescued her but not all of the other tributes (including Peeta). Heavensbee tells her, "We had to save you because you're the mockingjay, Katniss… While you live, the revolution lives" (Catching Fire, p. 386). Shortly after her arrival in Thirteen, Katniss insists on visiting her old home in Twelve, which the Capitol had bombed into oblivion immediately after the escape from the arena. While there, she discovers what she knows to be a message from President Snow – a white rose in her bedroom in Victor's Village. He knows she's alive; knows that she's in District Thirteen, and continues to threaten her even once she's out of his direct control….
---
Social media gives us a great cause. "Boycott Coke!" But the reason for this boycott, not the one that this author would prefer. In this piece, Bridget Welch discusses the legal and social construction of what it means to be American and how Coke, for once, got it right.

"BOYCOTT COKE!" started trending after the Super Bowl. Usually a hashtag I could get  behind. But what was the reason for this call to social media arms?
Is it the realization that Coca-Cola takes all the water from nearby farmers in India and leaves them to struggle with drought-like conditions? How this has been argued to be linked to an increase in suicide rates by Indian farmers? The extremely high rate of pesticides in their soft drinks? Similar situations in Mexico, where locals need to drink Coke because the companies' practices means the population doesn't have excess to water? MORE accusations of Coca-Cola hiring paramilitary groups in Columbia and Guatemala to kill workers to block unionization? More countries charging that Coca-Cola is dumping toxic waste? Or was it just that someone finally realized how HORRIBLE the drink is for our bodies?[1] Turns out, not so much.
This boycott, the one that got covered by national news was based on a negative reaction to children singing "America the Beautiful" in several different languages.
Why the negative reaction? Perhaps Michael Patrick Leahy on Breitbart captured it best when he argued that Coca-Cola was providing a different view of America … one that is "no longer a nation ruled by the Constitution and American traditions in which English is the language of government" nor a nation "governed in the Anglo-American tradition of liberty." His message is that this is a bad thing (seemingly disgusting really) that Coke should be ashamed of. As he concludes, "When the company used such an iconic song, one often sung in churches on the 4th of July that represents the old "E Pluribus Unum" view of how American society is integrated, to push multiculturalism down our throats, it's no wonder conservatives were outraged."
Let's ignore for a minute that the US actually has no official language. And, let's forget Latin and assume instead of "From Many, One" the motto actually means "For People Like Us, By People Like Us." And, for goodness sakes, let's ignore the fact that when he says "Anglo-American tradition" he is really talking about White European male traditions forged at the cost of the genocide of indigenous peoples and slavery (and other horrific acts). Instead, let's look at where he's right….
---
Wow, the Seattle Seahawks blew out the Denver Broncos in this year's Super Bowl! How many of you saw that coming? If you believe in the saying, "Defense wins championships," you might have predicted a Seattle victory. Speaking of defense, one member of Seattle's "Legion of Boom" received mounds of media attention in the weeks leading up to Super Bowl Sunday – cornerback Richard Sherman. An athletic play by Sherman two weeks earlier thwarted a San Francisco 49ers drive and sealed Seattle's trip to Super Bowl 48. However, it was Sherman's postgame interview and the attention it generated that caused all kinds of controversy. In this post, David Mayeda uses this case to illustrate the concept of racialized code words.
Like other sectors of society, sport serves as a site where constructions of race are developed and contested on a regular basis. Throughout history, sport has always responded to broader race politics, while simultaneously firing back at the racialized patterns seen off the field.
We see it less now than in decades past. Today's celebrity athletes are more constricted by corporate-driven politics and a less active push for social justice. Now in the twenty-first century, much of society likes to feel we have reached a place where perceptions of race and behavioral racism no longer matter, or only emerge among fringe, extremist groups outside the mainstream. The thing is, racism is still quite pervasive throughout society. It's simply changed.
Public response to talented black men
As described above, following Seattle's win over San Francisco about three weeks ago, Richard Sherman was interviewed by side-line reporter Erin Andrews. In the interview, an animated Sherman asserted his status as the League's top cornerback, while verbally deriding 49er wide-receiver Michael Crabtree, and doing so by staring angrily into the camera. Sherman and Crabtree had developed a mild rivalry; both are African American….
---
In the first post of a two-part series, Sarah Michele Ford examines uses The Hunger Games to examine the implications of totalitarian governments and the concept of social control. In the interests of full disclosure, this post is being written based on Suzanne Collins' Hunger Games books, not the movies. Oh, and in case you haven't picked up on this yet, SPOILER ALERT.
In order for society to work properly, its members must adhere to the accepted norms of behavior. In many cases, norms are enforced informally and the ones that the society has agreed are really important are codified into laws and are enforced by the government. In totalitarian political systems, however, the government itself decides the norms and maintains control by any means necessary.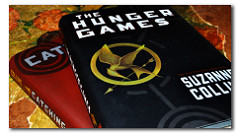 This, of course, brings us to the Hunger Games trilogy. In the dystopian future imagined in Suzanne Collins' books, the country of Panem is divided into twelve Districts which are ruled by a totalitarian government located in The Capitol. Every year, each of the districts (but not the Capitol) is required to send one randomly selected boy and girl between the ages of 12 and 18 to participate in the media spectacle that is the Hunger Games. After a short training period and a fanfare-filled televised introduction to the rest of the country, all twenty-four "tributes" are placed together in an arena, and in the first book the winner of the Hunger Games is the teenager who outlives all the others. It goes without saying that the games, which had their origin in the aftermath of a rebellion against the Capitol, are required viewing for all citizens of Panem, and are an explicit reminder of the Capitol's power over the Districts….
---
Geico Insurance has come out with a number of "Happier Than…" commercials which compare very happy characters, like the Hump Day Camel on Wednesdays, with the happiness of changing to Geico Insurance. In a recent advertisement, the happy character is none other than the Pillsbury Doughboy. In this post, Ami Stearns argues that the Pillsbury Doughboy's happiness at being poked and prodded by TSA serves to normalize the invasive practice of being touched during the airport experience.
His high-pitched giggle is instantly recognizable. His plump body calls to mind warm, fluffy biscuits just out of the oven. Pillsbury's famous mascot, the Pillsbury Doughboy, represents the comforting family kitchen. We're so used to the Doughboy that he's become as much of the American cultural landscape as a Norman Rockwell painting. The sound of his giggle makes us salivate for crescent rolls like Pavlov's dog. The Doughboy's successful association with the typical family home environment has normalized, for example, the purchase of packaged, mass-produced, ready-to-bake biscuits, cookies, and pie crusts.
Normalizing is a societal process where certain desired behaviors are made to appear very normal or so everyday that they come to be taken for granted. Who desires certain behaviors? Well, everyone from governments to educational systems to the military to corporations. Television commercials play a huge role in normalizing behaviors, for example, buying a new car before the old one breaks down, shampooing your hair daily, feeding your entire family through a drive-through window, and drinking diet soda.
The Pillsbury Doughboy is quite familiar to American audiences. In fact, the Doughboy as a corporate mascot is second only in popularity to those little talking M&M's. The Doughboy been seen everywhere from the Macy's Thanksgiving Day Parade to the children's toy aisle, in addition to starring in hundreds of Pillsbury commercials. Lately, though, the pudgy mascot has been seen backing a different type of product: insurance. Geico Insurance's series of popular "Happier than…" ads recently featured the Doughboy giggling uncontrollably while an airport TSA agent pokes him as he's going through security.
An entire post could be written about the novel concept of cross-advertising auto insurance with unbaked cookies, but let's concentrate on the details of the commercial itself while thinking about the normalization of monitoring and surveillance in our society. In the commercial, a TSA agent repeatedly tries to poke the Pillsbury Doughboy while the mascot's giggling increasingly gets out of control. The announcers ask, "How happy are people who switch to Geico?" and volunteer the answer, "Happier than the Pillsbury Doughboy on his way to a baking convention."…
---
Every season of the hit T.V. show Dancing with the Stars, fans tune in to see famous faces learning complicated routines. Over the past few years, it seems that fans and the media are intrigued with more than just the fox-trot, merengue, and the waltz. There is also a growing fascination with the physical transformation of some of the stars. Watching many of the celebrities lose weight has become one of the major highlights of the show. Americans are often fascinated with stories of celebrities improving their health. Sociologists are interested in what it takes for a person to make the decision to improve their health and actually follow through with that decision.
This season, the Dancing With The Stars winner and Glee actress Amber Riley has had countless interviews that focused on her health and weight as much as her winning dancing moves ('Dancing With the Stars' Champ Amber Riley Talks Winning and Weight Loss). Riley discusses how one of her main motivations for participating in the show was to improve her health, not to win. "When we first started, that wasn't the goal — it really wasn't," she told Us Weekly. "I was like, 'OK, this will be cool. It'll be great exercise, I'll gain confidence, and I'll learn dances'."
The Health Belief Model in Sociology can help explain what motivates some people to take charge of their health, and what prevents others from doing the same. According to this model, there are four conditions that must be met in order to take care of your own health.
1. You must believe you are at risk.
Throughout my college life, I did not accept my strong family history of heart disease. I ate McDonalds for breakfast, Burger King for lunch, and Taco Bell or Pizza Hut for dinner on a near-daily basis. Seriously. I knew I had a high risk for heart disease because both my maternal and paternal grandfathers died of heart attacks at an early age. I knew high blood pressure and high cholesterol plagued many of my family members. Yet I still did not accept that I personally was at risk….
---
Remember the Steubenville travesty that occurred in mid-2012 but didn't start making headlines until months later? If you don't recall, the case involved teenage males sexually assaulting a heavily intoxicated younger female, bragging of their exploits online, as various parties looked the other way or covered up the males' actions. In the aftermath, certain mainstream media outlets were more sympathetic to the adjudicated males than to the female survivor. In this post, David Mayeda covers a strikingly similar case that has made headlines in New Zealand.
TRIGGER WARNING: This article discusses sexual assault.
A while ago I began writing a few SIF articles focused on "preventing violence against women." I discussed the Steubenville case, as well as the tragedy in New Delhi, India and in different form, examples from Pakistan. In retrospect, I should have recalled how Jackson Katz frames the issue by naming it "men's violence against women," highlighting men's responsibility in gendered violence.
This past month, I was reminded how correct Katz is when 3News in New Zealand exposed a group of older teenage males from West Auckland called the Roast Busters. As reported by The New Zealand Herald, "The Roast Busters caused outrage by bragging on their Facebook page about getting underage girls drunk and having sex with them…. The Roast Busters Facebook page and the profile pages of some members – who are said to have targeted girls as young as 13 – have been taken down since news of their activities broke."
Since this story broke, members of New Zealand's mainstream and alternative media have provided excellent commentary critiquing the Roast Busters and a broader rape culture in New Zealand that "systematically trivializes, normalizes, or endorses sexual assault."
Unfortunately, following the Roast Busters' exposure, a number of other disturbing events emerged that exemplify how rape culture operates in a patriarchal society, where men's privilege is embedded across society's institutions. Take for instance the male-dominated institution of law enforcement. Police initially stated they could not take action on the Roast Busters because no victim had formally come forward to complain.
However, the public quickly learned that "police had received a complaint from a 13-year-old girl as far back as 2011." Demonstrating how police blamed the very young victim instead of taking action against accused male perpetrators, it was later revealed, "The girl…told 3News she was upset by the line of questioning used when she was interviewed by police in 2011, including about what she was wearing" (see also here)….
---
What does a fox say? The silly, but catchy, song by Ylvis has become an international hit and YouTube sensation. While the song seems more interested in mocking the insincere emotions in electronic pop music, it does actually ask an interesting sociological question. What does the fox say? In this article Nathan Palmer will answer this question and ask you to think about how we socially construct the natural environment.
Dog goes "woof"
Cat goes "meow"
Bird goes "tweet"
And mouse goes "squeak"
Cow goes "moo"
Frog goes "croak"
And the elephant goes "toot"
Ducks say "quack"
And fish go "blub"
And the seal goes "ow ow ow"
Still there's one sound that no one knows,
What does the fox say?
My daughter and I sing this song as loud as we can as we drive home from school everyday. And while this song might seem completely non-sociological, it actually shows us how the natural environment and how we conceptualize it, is socially constructed. For instance, did you know that in Czech a dogs say "haf haf" (Capek 2008)? What's going on here? Well, to answer that question, first we have to discuss why the natural environment is a social construction.
…
---