Why is Labor Day a national holiday? If you're stumped, you're not alone. In this post, Nathan Palmer argues that our awareness of the U.S. labor movement is connected to how textbooks and curriculum are created through a process of cultural production.
"What are we celebrating on Labor Day?" There is always a long silence after I ask my intro to sociology class this question. My students look to their left and right waiting for a classmate to generate the answer. "It's a day off because we labor so hard, right?" I shake my head no. In eight years of teaching only one class got it right and I think they googled the answer on their information phones.
Labor Day celebrates the victories of the labor movement. Whether you know it or not, people fought and died protesting for the right to unionize, for weekends off, child labor laws, the 40 hour work week, and many other things that most workers today could not imagine living without.
So why are so few of us aware of the history of the labor movement? The answer to this question lies, at least partially, in James Loewen's (1995) work Lies My Teacher Told Me.
The History of History Textbooks
Loewen analyzed the high school social studies and history textbooks to see what was and was not talked about it. Loewen found that half of the 18 American history textbooks he reviewed contained no index listing at all for the terms social class, social stratification, class structure, income distribution, inequality, or any conceivably related topic. Furthermore, very few of the books discussed labor union strikes and absolutely none discussed recent strikes and the strong government opposition to labor unions starting with the Reagan administration. Loewen (1995: 205) concluded that, "With such omissions, textbook authors construe labor history as something that happened long ago, like slavery, and that, like slavery, was corrected long ago."
It's easy to think that history is history (i.e. that history is the collection of facts about what happened before now), but that would be wrong….
---
Fathers Day is a day to celebrate the contributions that fathers make to all of our lives. One of the main contributions any parent makes is performing the labor it takes to have a clean house, have children who are clean/dressed, and all of the other housework tasks it takes to "produce the family" everyday. In this post Nathan Palmer explores the research on how heterosexual couples divvy up these tasks and invites dads everywhere to reflect on gender inequality.
It's Fathers Day! So before I do anything else, I want to wish a happy Fathers Day to all of my fellow dads out there.
This got me thinking about the work of parenting. Because make no mistake, parenting is WORK. You have to feed your kids, wash'em, learn'em, drive them everywhere under the sun, and don't get me started on all of the gross things I've done in the name of parenting. Now factor in all of the indirect parental work: grocery shopping, cooking, cleaning the house, etc. It's A LOT of work.
Sociologists have long been interested in the work of parenting and specifically how that labor is divided up between parents. And the research is clear: women do more housework than men. For instance, one study compared time use journals of men and women from 1976 to those from 2005. These researchers found that while the gender inequality had decreased, women still performed more hours of housework than their male counterparts Stafford 2008. This finding holds true even if both men and women work outside the home (Stohs 2000).
…
---
Asking for money is uncouth. In fact, money is not even really a polite topic for conversation, along with other taboo subjects like religion, politics, and sex. We go to elaborate lengths to avoid people who are asking for money in public by crossing to the other side of the street, avoiding eye contact, rolling up our windows, and pretending to talk or text on our phones. Money requests are, in short, uncomfortable. In this post, Ami Stearns suggests that the middle-class has harnessed the power of the internet to re-construct the way requesting financial assistance is accomplished. Crowdfunding sites like GoFundMe and Kickstarter provide a socially-acceptable method of asking for money.
"Only because of GoFundMe and my friends was I able to raise money for shoes," wrote Igor Vovkovinskiy, the world's tallest man. Other requests I looked at on GoFundMe included asking for financial assistance to open a cupcake shop, to run for Miss Washington, to help fund artificial insemination and adoption, trips to do ancestry research in Guatemala, animals' vet bills, and help "living the dream" in New York City. Kickstarter funds creative projects: albums, video games, documentaries. Even rocker Neil Young is using Kickstarter to fund his portable audio player. These days, it's more than acceptable to ask for money using these sites- it's hip and fun!
Money is a difficult subject. It's embarrassing if you have too much or too little. It's tough (often humiliating) to have to ask someone for money. It's considered in poor taste to hand your best friend a $20 bill on their birthday instead of buying a present. In fact, when given as a gift, money needs to come disguised, so it's not seen as tacky. When I Googled "manners" and "asking for money," over 9 million pages were presented. That's a lot of advice for a delicate subject!…
---
I used to teach the 2nd grade.  As a future sociologist, and life-long lover of justice, one of my favorite units to teach was the Social Studies unit "People Who Make A Difference." I would begin by asking my class of 7-8 year olds, "What is a hero?" They would often respond by naming their favorite comic book heroes. Superman and Spiderman were sure to come up. As we moved past comments such as "someone who wears a cape" or "someone who has powers," eventually a student would say something along the lines of "someone who saves people." I would express a lot of excitement at this statement that eventually led the students to name people like Martin Luther King. Jr. as their idea of a hero.  In this post, Mediha Din explores the components of being a hero and creating social change through the three major perspectives in sociology.
As I watched the first minute of the Clippers basketball game Sunday, (a play-off game versus the Golden State Warriors) I waited to see if any heroes would emerge. I listened earlier to the recorded remarks allegedly made by the Clippers franchise owner Donald Sterling, instructing his girlfriend to avoid associating with black people in public. You can listen to the recording here.
Many basketball fans awaited the response of the Clippers players and coach, wondering if they would refuse to play. The Clippers coach, Doc Rivers, made a statement earlier stating that he was not surprised by the comments. He also explained that the team met, the players were not happy about the comments, but they were not going to let anyone get in the way of what they have worked so hard for.
Just before the game began the players wore their warm-up shirts in-side out, hiding the Clippers logo. Commentators said this act was to represent their solidarity. Then the game began, basketball as usual.
I thought about Muhammad Ali. How he sacrificed his title to stand up for what he believed in. Ali declared his refusal to fight in the Vietnam War during the time of the draft. He was arrested, the New York State Athletic Commission suspended his boxing license, and stripped him of his title. Some found his anti-establishment views infuriating, others found them inspiring….
---
A mere 85 people control as much wealth as the poorest 3 billion people in the worlds population. That sobering fact makes it clear that the world in an unequal place, but is this economic inequality unfair? That all depends on what you believe. In this piece Nathan Palmer will explore the depths of economic inequality and discuss how the sociological concept of a justifying rationale can make you think it's fair.
Do you want play monopoly with me?
Let's say you and I just played a game of monopoly and I won. Would you want to play again with me, but this time I start with all of my winnings from last time? No? Why not? It's unfair? Says who? If this is unfair then why do we the exact same thing in the real world. Each of us is born into an ongoing game of monopoly. Some of us are born to the winning families and some to the families that are losing.
My point here is that we know things are unequal, but for some reason we don't think it's unfair. Let's start by looking at how unequal things are and then let's dig into why we don't think it's terribly unfair.
If we put every single thing that could be owned in the country (i.e. the land, businesses, stocks, investments, etc) into one big pot, then the richest 20% of the country would own 88.9% of it all. That means that the other 80% of the country (which almost certainly includes you) is fighting over the remaining 11% of existing wealth[1]. If we put all of the earned income into the same pot, we'd see that the top 20% earns 59.1% of that too. At the same time, poverty in the United States is higher than it's ever been since 1928. In 2009 1 in four children under the age of six were impoverished. If we look at the global level, we find that the top 85 richest people have as much wealth as the bottom 3 billion people on earth… Let the soak in for a moment.
While I could blather on, I'd rather show you what this looks like using a video. But before I show it to you, I should tell you that the video is not without it's flaws (read more about them here). However, the general gist (i.e. things are more unequal than we think they are) is still valid. So with that, here you go:
…
---
We are going to try something new here at SociologyInFocus. Instead of reading about a social issue we are going to learn about the issues of social location and life chances by watching the documentary American Promise. This documentary follows two African American boys from kindergarten through high school and over the 13 years we watch them grow and see the challenges they face.
What would happen if you placed a 5 year old child into one of the most prestigious private schools in the country? How would his or her life change? Would they be fast tracked to a life of professional success and material wealth? What if that child was an African American male? Would that change their outcomes?
In the recent documentary American Promise we get to answer these questions by watching two little 5 year old African American boys, Idris and Seun, enroll at The Dalton School in New York City. We follow them and their families as they go through all 13 years of K-12 education. We get to see their first hand experiences of opportunity, discrimination, and struggle.
…
---
In the first post of a two-part series, Sarah Michele Ford examines uses The Hunger Games to examine the implications of totalitarian governments and the concept of social control. In the interests of full disclosure, this post is being written based on Suzanne Collins' Hunger Games books, not the movies. Oh, and in case you haven't picked up on this yet, SPOILER ALERT.
In order for society to work properly, its members must adhere to the accepted norms of behavior. In many cases, norms are enforced informally and the ones that the society has agreed are really important are codified into laws and are enforced by the government. In totalitarian political systems, however, the government itself decides the norms and maintains control by any means necessary.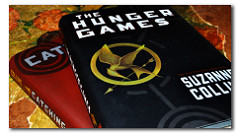 This, of course, brings us to the Hunger Games trilogy. In the dystopian future imagined in Suzanne Collins' books, the country of Panem is divided into twelve Districts which are ruled by a totalitarian government located in The Capitol. Every year, each of the districts (but not the Capitol) is required to send one randomly selected boy and girl between the ages of 12 and 18 to participate in the media spectacle that is the Hunger Games. After a short training period and a fanfare-filled televised introduction to the rest of the country, all twenty-four "tributes" are placed together in an arena, and in the first book the winner of the Hunger Games is the teenager who outlives all the others. It goes without saying that the games, which had their origin in the aftermath of a rebellion against the Capitol, are required viewing for all citizens of Panem, and are an explicit reminder of the Capitol's power over the Districts….
---
You pop out of bed, turn on your TV to the local news, and look to see if school has been canceled due to snowy weather. Bummer, it looks like your college is going to stay open. You look out the window and see that roads look awful. So what do you do? Stay home or go to campus? In this post, Stephanie Medley-Rath examines how much agency a student has when deciding whether to attend class on a day of extreme weather.
The roads are yet again covered in ice and snow. While my daughter's school cancelled classes due to the weather, my college did not. Where I teach is a commuter school and serves a very large geographic area. As an employee, my options were to cancel class and take a personal day or make every effort to hold class and keep my personal day. I like to hold onto personal and sick days until I absolutely need them, so I threw on my snow gear and went to campus.
I had some agency in the matter. Agency is a term sociologist use that describes a person's ability to affect the world around them and/or get their way. It may be easier for you to think of agency as control or as "free will". I could have used my agency and easily cancelled class because I have the personal leave I could take. I would even still get paid for the day if I opted to cancel class.
But, what about my students? How much agency did they have in choosing whether to drive to campus or stay home? Let's consider the factors that would influence their "choice:"
The college did not close, as I mentioned above, yet some instructors did cancel classes. If a student had other classes that were cancelled, then perhaps they would be more likely to skip those classes that were not cancelled.
What if the teacher grades attendance, participation, or both? This is true of the courses that I teach. For a student to skip today, they would lose these points.
As a student paying tuition, to skip class means that your money is to some extent "wasted."

…
---
If White Americans are the targets of racial prejudice and discrimination, then that's reverse racism, right? Well, while many people might agree with this logic, in this post Kim Cochran Kiesewetter discusses the differences between individual and institutional racism to help explain reverse racism from a sociological point of view.
I still remember sitting in my first sociology course in college – Race and Ethnic Relations – and hearing the professor introduce the discussion of racism. Immediately, my mind flew to an experience I had as a child where I had felt attacked for being White while staying with my grandmother in a neighborhood composed predominantly of families from minority racial backgrounds. As I shared my story with the class, the professor interjected that, even though I had felt discriminated against, I hadn't been the victim of racism since I was White. A look of confusion crossed my face moments before I realized I was incredibly offended. How in the world could this person be telling me I couldn't have experienced being the victim of racism?!
As a sociology teacher myself now, I regularly encounter the same conversation I had with my professor when I myself was a student… except now I am the professor trying to use that conversation as a gentle move into the discussion of individual versus institutional racism.
Learning to think sociologically takes time because, for many of us, it's a dynamically different way of looking at the world. Sociologists look at trends for large groups of people to examine how a variety of social forces can influence the ways in which we experience life. This means that we don't use individual, singular experiences as representative of whole populations. Instead, we have to look at the proverbial big picture.  Aamer Rahman, an Australian comedian, does a great job of using humor to explain how to view racism in a "big picture" manner, versus as an individual experience.

…
---
A 16 year old boy in Texas gets drunk, drives his truck 70 mph on a 40 mph road and kills four people who were stopped on the side of road fixing a flat tire, but the boy doesn't go to prison. In this post Nathan Palmer uses the concept of the inequality of life chances to try to understand this mind-boggling sentence.
What I remember about the fights I saw in junior high school was the standing around waiting for something to happen. Word would spread through the school that so-and-so was going to fight so-and-so right after school ended. I'm not proud of it, but every time I heard about a fight, I'd rush over to the spot it was supposed to happen as soon as the last bell rang; I just couldn't keep myself from seeing it, like when you drive by a car accident. However most times the fight never happened. We'd stand around and listen to two scared boys puff their chests out and do their best tough guy impersonation.
The only fight I can vividly remember seeing was brutal. The two boys beat each other mercilessly and I remember feeling I'd done something wrong by watching and feeling sure someone was going to get in big trouble for the fight.
I hadn't even got into the school the next morning when I heard the news. One of the boys had been suspended and he might be expelled at a hearing of sorts later that day. I was floored. First at the thought that someone I knew might get expelled and second because why wasn't the other boy also suspended?
…
---